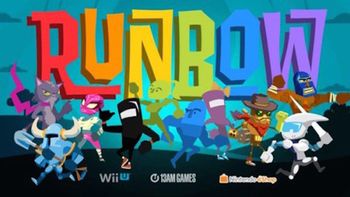 Runbow is an Indie, Massive Multiplayer Crossover, 2D Platforming Party game developed by 13AM Games and released on the Nintendo Wii U eShop on August 27th, 2015, with ports on Steam, the Nintendo 3DS, Playstation 4, and Nintendo Switch releasing afterwards. It features original characters Hue and Val, their nemesis, Satura, and a nice plethora of guest characters from other indie games. The main gimmick in the game is that the background color constantly shifts among a set palette and any platform or obstacle that matches that color will effectively blend in and "disappear," allowing the player to pass through the same. It features four main party games and two single player modes, but all modes allow up to a whopping 9 players all at once!
Not to be confused with Runbow: A Game of Endless Rainbows and Running for iOS.
---
Runbow provides examples of the following tropes:
Fake Difficulty: The fact that this is averted is one of the reasons why this game is so fun. You'll die a lot, but it's almost never the game's fault.
Palette Swap: There are only two body types in the game, one is a bulky form (Hue) and the other is slimmer but tall form (Val). Beyond this, all characters essentially play the same.
---