---
open/close all folders
Mao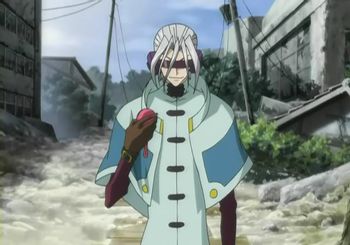 Voiced by
:
Takeshi Kusao
(Japanese), Ezra Weisz (English)
"C.C., I can't live without you!"
"Let me into your mind!"
"I know EVERYTHING..."
A Chinese orphan whom the immortal woman C.C. finds as a six-year-old boy and whom she "gifts" with the Geass power of telepathy. As happens with Geass, he loses control of it, forcing him to listen to everyone's thoughts constantly and involuntarily, without any possibility of blocking them — except by avoiding human contact altogether. Thus his telepathy has the tragic side effect of rendering him completely, permanently, and irrevocably dependent on C.C. for all of his social needs. For a time, as part of her "contract" with him, she takes care of him, lives with him in the wild, and helps shield him from the intruding thoughts of the world, during which time he falls completely in love with her. Feeling he is becoming too dependent and obsessed with her and hoping he will become self-reliant, she abandons him and his Geass drives him insane.
Now Mao's one desire is to find and keep his eternally beloved C.C. (see Yandere)— to hell with anyone else, especially anyone who gets in their way.
---
Rai
The Player Character of the Visual Novel Code Geass: Lost Colors, Rai is a mysterious young man who enters the story (approximately around Episode 8) when Milly finds him wandering around Tokyo with amnesia and takes him to Ashford Academy. He quickly learns that he has a Geass power of his own, effectively identical to Lelouch's except that Rai's is auditory rather than visual. From there, he meets the central cast, and can choose whether to become Zero's right-hand man in the Black Knights, or Suzaku's partner in the Britannian military (or, in a PSP-exclusive storyline, he can revive the Japan Liberation Front and oppose both the Black Knights and Britannia).
See Lost Colors character page for more details on Rai.
---
Clara Lanfranc
A member of the Geass Order who was tasked by V.V. to play the part of Lelouch's temporary younger sister after Nunnally goes missing before the events of R2. V.V. also gives her a geass, which allows her to control someone's body even if they try to resist.
---
I Just Want My Beloved to Be Happy: Clara in a twisted way.
I Know Your True Name: Clara Lanfranc has the Geass power to take control of peoples' bodies if she looks them in the eye and speaks their true name.

She tries using the power against "Oldrin", but it fails because it's actually Orpheus in disguise, and he's smart enough to kill her before she can give it a second chance.

Un-person: Clara Lanfranc, the first person the Geass Directorate sent to spy on Lelouch while pretending to be his sibling, got erased from everyones' memories after Orpheus killed her and was subsequently replaced by Rolo Haliburton.
Caretaker of Spacetime
The collective consciousness of the Universe. They are a seer who watches the balance of the world from within. They do not exist for ordinary people, but exist for those who are able to see them.
---
The Skull
Voiced by: ??? (Japanese), ??? (English)
A powerful and malevolent entity that "gifted" Shin Hyuga Shaing with his Geass - for a very costly price. Its origins, or true nature for that matter, are a complete mystery.
---
---
Peace Mark
A world-wide terrorist organization that has connections with every terrorist faction around the world. They underwent an increase of operations at the end of the Black Rebellion, and has contacts with the Middle Eastern and Chinese Federations.
Orpheus Zevon
Orpheus Zevon is the twin brother of Oldrin Zevon. Born into nobility but abandoned by his parents so that Oldrin may succeed as the heir of the family according to its traditions, he was raised by a peasant family. However he was conscripted into the Geass Order against his will, using him as an assassin. Though he has long since broken ties with the Order, the cost was too great, and his lover Euliya died in the escape. When he discovered that his old family had a hand in his lover's death, he swore vengeance and returned to the battlefield.
---
Ze Dien
Ze Dien is a terrorist who is connected to "Peace Mark". He is a young man originally from the Chinese Federation. He performs requests using a customized Glasgow he bought on the black market and remodeled to his preferences. He works together with Orpheus on missions along with Ganabati.
---
Ganabati
An Indian man of Sikh origin, he's an engineer and merchant who helps out in PM. He's also the designated driver for the truck that carries the KMFs used by Ze and Orpheus.
---
Miss X
A mysterious woman who serves as PM's liaison officer with the outside world.
---
Wizard is a mysterious masked man who styles himself as a "magician", and is a financial supporter of Peace Mark. He possesses vast information and assets, and is said to be very reliable, but his hidden background and identity have many grounds for suspicion. He toys with the two "Oz"s, Oldrin Zevon and Orpheus Zevon, whose identities and pasts he is apparently aware of. He pilots the black Knightmare Frame, Agravain.
In reality, he is Oiagros Zevon, the uncle of both Oldrin and Orpheus Zevon, and the head of the minor noble Zevon family. He is also the leader of the Britannian organization "Pluton", which has carried out dirty jobs for the Britannian Imperial Family under the direction of the Zevon family for generations. In addition, he is the one responsible for killing Orpheus' lover Euliya on orders from the Geass Order, and is the enemy that Orpheus hunts and seeks revenge against.
---
The Atoner:

He is tortured by a guilty conscience for killing his older sister in order to take over as the head of the Zevon family five years ago, and furthermore killing his nephew (or so he believed at the time) on a mission. Because of this, he supports an anti-Britannian organization under the name of Wizard while being the head of "Pluton", and tries to support and protect both Orpheus and Oldrin in various situations as a way of atonement.

Ace Custom: Agravain, the successor to the Gawain and predecessor to the mass-produced Gareths.
Char Clone: A masked man whose ties with a certain aristocratic family and has a certain goal while working for the villains.
---