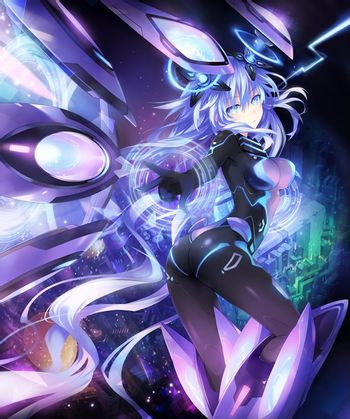 Gamindustri. A world which exists outside of our reality, where four CPUs protect and rule above each nation.
The nation where CPU Purple Heart rules, Planeptune.
The nation where CPU Black Heart rules, Lastation.
The nation where CPU White Heart rules, Lowee.
The nation where CPU Green Heart rules, Leanbox.

In the past, Gamindustri had been exposed to threats such as the Deity of Sin, and the CPU of the ancient nation of Tari...
But thanks to the efforts of the four CPUs, a lasting era of peace has been maintained.

However, as they enter the CPU Shift Period, their enduring reign is approaching its end...
— Opening Narration
Megadimension Neptunia VII (Shin Jigen Game Neptune VII) is the fourth main game of Neptunia series for PlayStation 4 developed by Idea Factory and Compile Heart, released in late April 2015, as well North America and Europe in February 2016, with a PC port of the NA release debuting in July 2016. A Nintendo Switch version released in Japan on March 2020, with North America and Europe getting the game in the summer of that year. Note that "VII" stands for "Victory II", not the Roman Numeral for seven (although, if one counts the remakes of the three main series games before this, it technically is the seventh game).
Taking place three years after the True Ending of Victory/Re;Birth3note Victory/Re;Birth3 sets "a few years" after mk2/Re;Birth2, yet the game itself is set in GC 2012, Gamindustri has entered a precarious season known as the CPU Shift Period. During this time, bad rumors about the CPUs have begun to spread the whole Gamindustri. Neptune and the others worry the citizens of their respective landmass will soon call for new leaders to replace them and that their leadership will end.
In these critical moments for Planeptune, Neptune and Nepgear mysteriously disappear. Their destination: a divergent world, nearing its catastrophic end, called the Zero Dimension. They encounter the last remaining CPU of this world, Uzume Tennouboshi, who is desperately waging a lonely battle against a colossal evil known as the Dark CPU.
Will Neptune and Nepgear be able to work together with Uzume in order to save Zero Dimension from tragedy? Thus, the new adventure for Neptune begins in this game…
Alongside with Uzume, this installment also introduces an older Neptune, but unlike the Neptune we know, she cannot transform into a Goddess. However, her personality is generally the same, albeit calmer.
See the teasers here
, here
, here
, here
, and here
The game later received the Updated Re-release Megadimension Neptunia VIIR, which incorporates virtual reality segments with the four main CPUs and older Neptune.
---
Tropes in Megadimension Neptunia VII: