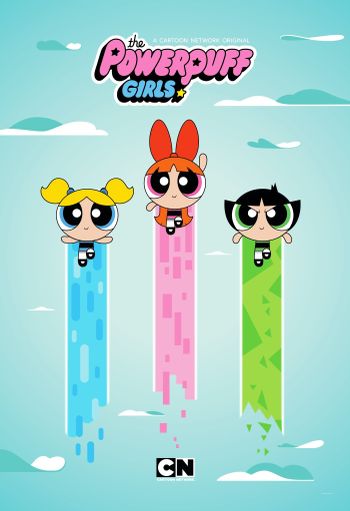 The third major entry in The Powerpuff Girls franchise, following the original 1998 animated series and the 2006 anime adaptation, The Powerpuff Girls (2016) serves as a soft reboot to the Cartoon Network show. Announced in June 2014 following the positive reception of the Dance Pantsed special, this incarnation is executive produced by Bob Boyle (Yin Yang Yo!) and Nick Jennings.note Cartoon Network did consider having franchise creator Craig McCracken return as showrunner, but his contract with Disney Television Animation at the time (producing Wander over Yonder) prevented this.
The story is still the same as always: Professor Utonium was testing the theory of Sugar, Spice and Everything Nice to see if he could make the perfect little girls. He accidentally smashed a container of Chemical X which pours into the vat, and indeed did create said girls, but they were imbued with superpowers. Thus Blossom, Bubbles, and Buttercup use said powers to protect the city of Townsville from crime, monsters, the supernatural, and any other forces of evil.
Changes made to this version of the series include a host of new villains in addition to the previous show's Rogues Gallery, the girls now being elementary school students, the old telephone being replaced by a smartphone app, and a general shift from comedic action to more Slice of Life-styled plots. While the original voice actresses for the girls (Cathy Cavadini, Tara Strong and Elizabeth Daily) were replaced — allegedly for being "too old" — several other VAs (such as Tom Kenny and Roger L. Jackson) returned to reprise their roles.
The series premiered on April 4th, 2016, with the series premiere predated by a trio of character shorts (Air Buttercup
, Bubbles Beauty Blog
, and Run Blossom Run
) meant to introduce the new versions of the characters. After three seasons, the series ended on June 16, 2019.note No official statements were made regarding the series' cancellation, but its disappearance from the network after June 2019 (and much of the crew moving on to other productions in the time since), gives a strong indication that this is the case.
Now has a Recap page as well as a Character page dedicated to the new characters.
---
The Powerpuff Girls (2016) provides examples of:
open/close all folders
#-J
K-Z
which is so dangerous that many of the Townsville kids get hurt trying to ride it.
---