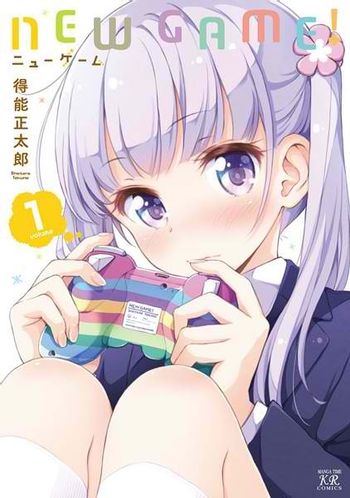 Aoba Suzukaze is a fresh high-school graduate who is easily mistaken for a middle school student. She quickly joins Eagle Jump, the game company that produced her favorite game as a 3D artist, and has many cute antics as she gets her way through work and deals with her rather wacky co-workers.
New Game! is a Yonkoma manga by Shotaro Tokuno, which was serialized in Manga Time Kirara Carat from 2013 to 2021. While it leans heavily on a cute aesthetic, it also portrays how the video game industry works in a realistic yet light-hearted way. Since this is a 4-koma, expect lots of hilarious moments. Seven Seas Entertainment released the manga in English in 2018.
An anime adaptation by Dogakobo and directed by Yoshiyuki Fujiwara (Engaged to the Unidentified) premiered in July 2016. An OVA was released on May 3, 2017. A second season aired as part of the Summer 2017 Anime lineup. The series is streamed in most of the English-speaking world by Crunchyroll. In North America, New Game! is licensed and dubbed by Funimation. The episodes can be watched here
.
---
New Game! provides examples of:
---