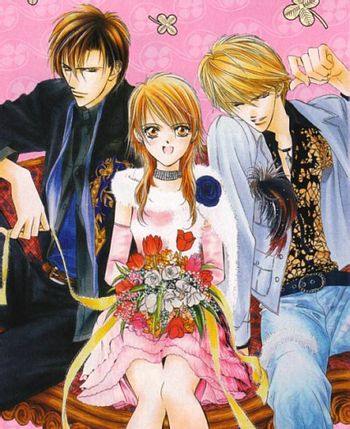 After graduating from Junior High, Kyouko Mogami follows her childhood friend Shou to Tokyo to help him pursue his dream of being an idol. Although Shou doesn't help her at all and even mistreats her, Kyouko still believes that all her efforts (working several part-time jobs, paying all his expenses, acting as his housemaid) will be eventually repaid with love and gratitude.
Until she learns, from the mouth of Shou himself, that he has no feelings towards her, and the only reason he asked her to come with him was because he knew she would act as his personal servant for nothing.
Another woman would have cried right then, or pleaded for explanations... but instead this revelation opens the sealed Pandora's Box inside Kyouko's heart, unleashing (and materializing) all the demons she had kept inside her for years. She vows to have her revenge, but Shou simply mocks her and scoffs that the only way she could hurt him would be if she became as famous as he is.
So she decides to become as famous as he is.
The rest of the series follows Kyouko as she determinedly works her way up the ranks of show business, improving her performance skills, making friends and enemies galore, butting heads with talented and handsome fellow actor Ren Tsuruga, and most of all trying to rebuild her life anew now that she's out from under Shou's thumb.
A shoujo manga by Yoshiki Nakamura, Skip Beat! began serialization in 2002 in the monthly magazine Hana to Yume and is still running to this day. An anime adaptation aired from October 2008 to March 2009 for 25 episodes, and can be legally watched
on Crunchyroll. There is also a Taiwanese Live-Action Adaptation that aired in winter 2011.
A successful Kickstarter campaign to dub the series and bring it over to the U.S. on DVD
was made by Pied Piper Inc. (the same company that bought over Time of Eve) in March 2016.
For a more recent manga about the world of acting, compare act-age.
---
Provides Examples Of:
---