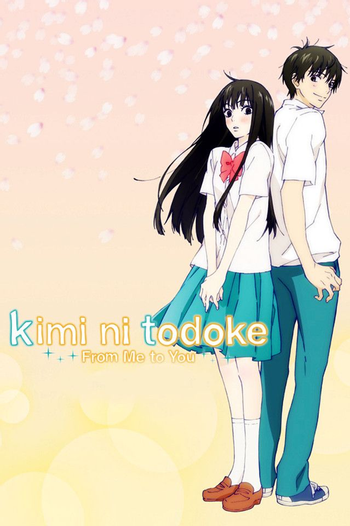 Kimi ni Todoke (officially translated as From Me to You, more literally as Reaching You) is the story of Sawako, whose resemblance to the horror movie character Sadako has made her a social outcast. Being outcast from a young age has made her socially awkward, which only makes her more of an outcast, so it's all really a vicious cycle.
The actual inciting event of the story proper is the beginning of Sawako's friendship with Shota Kazehaya, the most popular guy in school. Unlike 99% of other "most popular guy" characters, Kazehaya is genuinely nice, and has feelings for Sawako, despite her loner nature. As they get to know each other better, Sawako forms an ever-expanding network of friends, yet she and Kazehaya never seem to realize they like each other in the same way.
Ultimately, a very touching story about liking people for who they are without trying to change them.
The manga was serialized in Bessatsu Margaret from 2005 to 2017, and is licensed in English by Viz Media. It was adapted as a 25-episode anime series produced by Production I.G that started airing October 6th 2009, and the notable voice actors are listed under their characters in the character page. The second 12-episode season continues the story. There's also a light novel adaptation and a live-action movie adaptation that was released on September 25, 2010. Both seasons are licensed in North America by NIS America. A 3rd season was announced in September 2023 produced by Production I.G.
to air on Netflix in 2024.
A sequel spinoff starring Kurumi titled Kimi ni Todoke ~Soulmate~ ran in the same magazine from 2018 to 2022.
---
This series provides examples of:
---