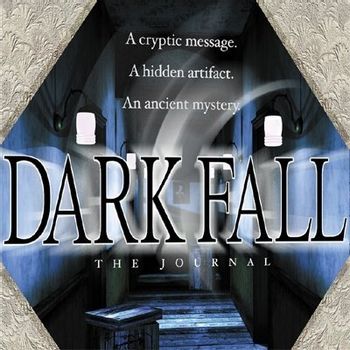 "Oh Nigel, what have you done? Oh God! What have we done?"
A series of Point-and-Click adventure games that fall squarely in the horror genre, created by Jonathan Boakes.
The first game, Dark Fall: The Journal, was released in 2004. It takes place at Dowerton, an abandoned West Country train station and hotel. The player character's brother is attempting to renovate it into a bed and breakfast. It turns out that the train station has a Dark and Troubled Past involving many mysterious disappearances over the years and apparent paranormal activity. Your character receives a panicked message on your answering machine, leading you to hitch on out to the train station in the wee hours to investigate the matter. When you arrive, no one is there...at least no one besides a child's disembodied voice. Against your better judgement, you begin exploring this eerie place.
Positive Word-Of-Mouth got this small, independent production the attention of The Adventure Company and the game enjoyed a wider release, which in-turn led to three sequels (Dark Fall: Light's Out, Dark Fall: Lost Souls, and Dark Fall: Ghost Vigil) and a spin-off game series (The Lost Crown).
In Lights Out, you play as a cartographer who was sent out to an isolated lighthouse on an island off the coast of Britain to find out what happened to its keepers. As before, the people you are looking for have literally vanished, and the process of trying to find out transpired takes you on a (creepy) journey through time, through thousands of years of the island's history.
In Lost Souls, you play as an Inspector who, five years before, tried and failed to discover what happened to a missing girl from Dowerton named Amy. You have returned to Dowerton to try to... find her? Save her? Settle the questions in your mind? Your reasons for being there are obscure, as is the truth about what happened five years ago. You'll gradually learn the awful truth as you play your way through Dowerton Station; if you played The Journal, you'll recognize the place, but just barely. It's...really gone downhill.
In Ghost Vigil, you play as the new recruit for a team of young Oxford Paranormal Group ghost-hunters, who are investigating and conducting paranormal experiments at Harwood House, an abandoned country mansion. Steeped in layers of history - and tragedy - this 18th-century manor-cum-1980s children's home has long been the scene of spooky phenomena, which you'll do your best to capture with gadgets, CCTV cameras, and tape. But all too soon, it become apparent that it's you and your fellow ghost-hunters who have truly been captured...
---
These games contain examples of:
---