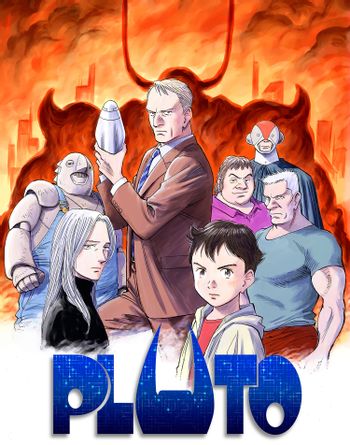 Professor Ochanomizu. You've made it clear you don't understand a thing about computerized brains. Frustration, intense hatred. That seething hatred that could lead someone to murder under that right conditions. Those are what robotic brains need to grow.
A brain capable of error. That's what it means to reach perfection. And that is what will finally give birth...to
the greatest robot the world has ever seen.
— Professor Tenma
A manga by Naoki Urasawa, the man behind Monster and 20th Century Boys. The story is an Ultimate Universe reimagining of the classic Astro Boy story arc "The Greatest Robot on Earth" (which can be found in Astro Boy book three, in case you want to check it out before reading the remake). Takashi Nagasaki is credited as a co-author, while Makoto Tezuka (Osamu Tezuka's son) supervised the story. The manga ran in the seinen magazine Big Comic Original from 2003 to 2009.
In a world where humans and sentient robots co-exist, someone or something is targeting the seven most advanced robots, killing them off one by one. Even more disturbingly, the same killer seems to be murdering humans as well. Only a supremely powerful robot could be killing the other robots—but all robots are hardwired to be unable to kill humans, with one very important exception.
German robot detective Gesicht (German for 'face'), who is so advanced as to be nearly indistinguishable from a normal human, investigates the killings in an effort to learn the secret link between the advanced robots and humans being murdered. This is an especially urgent matter for Gesicht, since he's one of the scheduled murder victims...
In 2010, Universal picked up the rights to make a CGI/live-action movie. 2017 saw an announcement for an eight-episode Animated Adaptation. A sneak peak
for the anime was released in February 2023, confirming a Netflix release. GENCO and Studio M2 animate the series with help from Tezuka Productions, MAPPA, DR Movie, BILBA and Studio VOLN. The anime released on October 26, 2023, with 8 1-hour long episodes.
No relation to the former planet, nor the cartoon bloodhound, nor the Sailor Senshi, nor the Greco-Roman god of the Underworld, other than the titular robot being named after said god. Also, this manga is not expendable.
---
This manga provides examples of:
---