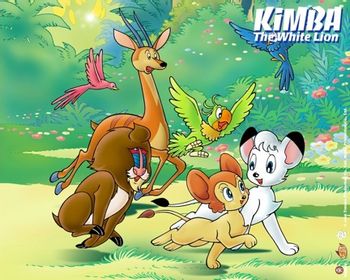 Kimba the White Lion
is a 1965 television series based on
Osamu Tezuka
's manga "Jungle Taitei" (1950-1954), directed by Tezuka himself. The series follows a white lion named Kimba (Leo in the Japanese version) who, due to the death of his father, is forced to become the King of the Jungle. With the help of
a cranky old baboon
who occasionally attempts to offer advice and a
comically mismatched pair of buddies
, he must attempt to hold peace in the jungle in order to achieve his and his father's ideal of all animals living in harmony without needing to eat each other to survive. His solution to this is to force all the
carnivores to become vegetarian
... somehow.
In some versions of the story, this really doesn't end well. However, due to the fact that this particular series was a collaboration between Tezuka's Mushi Productions studio and NBC, it remains on the more upbeat side of the scale.
Other anime and remakes of the series include (English name used unless stated):
Leo the Lion (1966): Sequel series unrelated to the manga focusing both on the now-adult Kimba as well as his cub, Rune.
Jungle Emperor (1966): Feature movie telling the same story as the 1965 series, borrowing a lot of its animation from it. Never Dubbed.
Jungle Emperor (1967): A Symphonic Poem by Isao Tomita based on the series.
The New Adventures of Kimba The White Lion (1989): A Darker and Edgier remake of the original series.
Jungle Emperor Leo (1997): Another feature movie adapting the second half of the manga with The adult Kimba.
Jungle Emperor: The Brave Can Change the Future (2009): OVA with an brand new story and different setting from the manga. Taking place in an After the End 'Neo-Jungle'. Never dubbed.
As an additional note, the original series was the first Japanese animated television series produced in color.
---
Tropes used by the series based on the manga:
---
Jungle Emperor (2009) TV Special Provides Examples of:
---