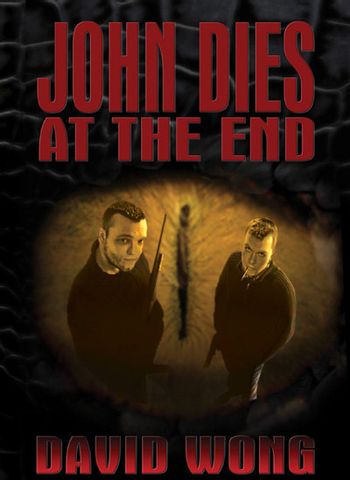 "You're on it right now? That's how you did the thing with the, uh, with the coins and the dream and all that earlier?"
"Yeah. I took some today. It's fading though."
"So the effects don't last that long."
"The
side effects
don't last that long. The effects will last the rest of my life, I think... Maybe longer."
A web serial-turned-published-book by author David Wong (actually Jason Pargin, former head editor of Cracked), written in autobiographical style, narrated by a character named David Wong about his and his best friend's adventures featuring the paranormal.
Dave and John are two college dropouts living in the middle of an "Undisclosed" town in Illinois. John is a deranged, irresponsible, carefree, slacker/rocker/drug enthusiast. Dave is an apathetic, bored, snarky withdrawn young man with a traumatic past and the tendency to get dragged along with whatever John happens to be doing. After a run-in with a living hallucinogenic drug at a party, the pair gain the ability to see ghosts, demons, and into other dimensions. Hilarity Ensues. So does violence. And monsters. And weirdness. And swearing. And an unbelievable amount of dick jokes and Toilet Humor.
Once available for free at http://www.johndiesattheend.com
, but now that it's being published, there's just a humorous promotional blog addressing the (supposed) rumors that the events of the story really happened.note It's also an Alternate Reality Game with clues hidden in the blog images and filenames.
Two sequels, titled This Book Is Full of Spiders: Seriously, Dude, Don't Touch It and What the Hell Did I Just Read: A Novel of Cosmic Horror have been released. The fourth book in the series, entitled If This Book Exists, You're in the Wrong Universe, is scheduled to be released in 2022.
David Wong is also the author of Futuristic Violence and Fancy Suits, an unrelated science fiction novel that has a similar sense of humor.
The film adaptation directed by Don Coscarelli was released on January 25th, 2013 and is also available on iTunes
. Its trailer can be watched here
on Cracked.
And hello to those of you from Cracked
!
---
John Dies at the End provides examples of:
---