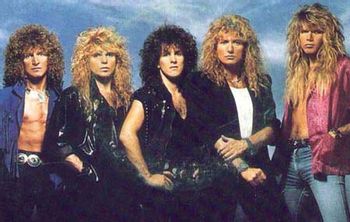 About three days later my landlord told me that I wasn't allowed to play "Here I Go Again," by Whitesnake at full volume at 3 AM every morning. I politely said: "Well, what the hell time of day can I blast Whitesnake?!"
I called Derek back and asked if he liked Whitesnake. He said he didn't, but I assumed he was lying. I mean who the hell doesn't like Whitesnake?
—House of Shadows by Mat Stevens.
Whitesnake is a hard rock band hailing from England that was formed in 1977.
The current members of the band are:
David Coverdale - lead vocals (1976–82, 1982–91, 1994, 1997–98, 2002–present)
Joel Hoekstra - guitars (2014–present)
Reb Beach (who splits his time between this band and Winger) - guitars (2002–present)
Michael Devin - bass (2010–present)
Michele Luppi - keyboards (2015–present)
Tommy Aldridge - drums (1987-1991, 2002-2007, 2013-present)
The so-called "classic" lineup, from the height of the band's popularity in the late '80s (and the lineup most people likely invoke when they think of the band) is pictured above. As it turns out, this exact lineup never recorded an album together; Coverdale had fired the previous lineup (John Sykes on guitar, Niel Murray on bass and Aynsley Dunbar on drums) after completing the recording of their eponymous 1987 album, and when the album became a smash success, Coverdale assembled a new group of musicians to go out on tour* Adrian Vandenburg had previously contributed the guitar solo for "Here I Go Again ('87)", and was already slated to join the band. After the tour, Vivian Campbell left the band, and Adrian Vandenburg injured his hand during rehearsals for the next album, necessitating the involvement of Steve Vai.
The band started in North Yorkshire, England. The style was primarily blues rock (or progressive R&B as they liked to call it) for quite a while. They were often compared to Deep Purple— David Coverdale being formerly of that band, and long-running Deep Purple members Jon Lord and Ian Paice being in the first few lineups. After Moody was replaced with a guitarist from Thin Lizzy, the band moved into playing a more commercially driven, slick sort of hard rock while never quite leaving their heavy metal roots behind.
Some of their most famous songs are:
---
Tropes related to the band:
---