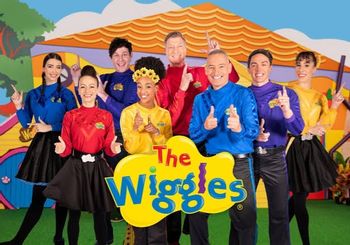 Get Ready to Wiggle
We've been ready for so long
Get Ready to Wiggle
When you wiggle you can't go wrong
Get Ready to Wiggle
Wiggle will make you big and strong
Get Ready to Wiggle
Come on wiggle to this song
Wiggle to this song
— "Get Ready to Wiggle"
The Wiggles are an Australian children's band, founded in 1991 but who gained international popularity during the 2000s. Greg Page, Anthony Field and Murray Cook met as early childhood education students at Macquarie University in the 80s, while Field was a member of 80s rock band The Cockroaches alongside Jeff Fatt; the three classmates undertook a university project of their own design intended to create music aimed at children with educational value, and Fatt was brought in as a pianist. A few years and a deal with The ABC later, and The Wiggles were born.
Over the years they have produced over fifty albums and home videos, several television series and a feature-length film, with another one in the works. The ABC has broadcast the majority of their shows and been in charge of distributing all their albums and videos in Australia. In the United States, the program initially aired on Fox Family, then moved to Playhouse Disney, but were eventually supplanted there by the Imagination Movers, after which they moved again to Universal Kids.
Besides the band themselves, the majority of Wiggles media also includes a secondary cast of friends; Dorothy, a green-and-yellow dinosaur girl that eats roses, Henry, a purple band-conducting octopus, Captain Feathersword, a Friendly Pirate, and Wags, a big brown dog. In 2019, the group added a fifth friend, Shirley Shawn the Unicorn.
It says something about the Wiggles' importance within Australian culture that when the original yellow Wiggle, Greg Page, left the group due to an illness in 2006, it made national headlines for weeks. The majority of Australians will know at least three of their songs and sing them, as well as give you the trademark Wiggle finger pointing gesture unashamedly, an almost unique thing in the world when it comes to children's music.
After Greg's departure, he was replaced as the Yellow Wiggle by Sam Moran, who stayed until January 2012, when Greg returned. Later that year, however, it was announced three of the original members - Greg, Murray, and Jeff - would retire from the group the following year (though they continued to be involved in the development of the band), and would be replaced by three younger band members, Simon Pryce as the red Wiggle, Lachlan "Lachy" Gillespie as purple, and Emma Watkins as yellow, with Anthony staying.
In 2021, an additional personnel of Wiggles was introduced, with four new members joining alongside the core lineup. Around the same time, it was announced that Emma would be retiring and passing on her yellow skivvy to Tsehay Hawkins.
The core lineup of The Wiggles currently consists of Anthony Field (blue), Lachlan Gillespie (purple), Tsehay Hawkins (yellow) and Simon Pryce (red), while the additional members consist of Evie Ferris (yellow), Lucia Field (blue), Caterina Mete (red) and John Pearce (purple).
---
Members:
Current members:
Anthony Field (Blue) - Guitar, drums, vocals, violin, didgeridoo, banjo, bagpipes, trumpet, bass (1991-Present)
Lachlan Gillespie (Purple) - Vocals, piano, guitar, xylophone (2012-Present)
Tsehay Hawkins (Yellow) - Vocals, rapping (2021-Present)note
Simon Pryce (Red) - Vocals, percussion, bass (2012-Present)
Evie Ferris (Yellow, supporting member) - Vocals (2021-Present)note
Lucia Field (Blue, supporting member) - Vocals, drums (2022-Present)
Caterina Mete (Red, supporting member) - Vocals, guitar (2022-Present)
John Pearce (Purple, supporting member) - Vocals, rapping, programming, guitar, drums (2021-Present)
OG Wiggles:
Murray Cook (Red) - Guitar, bass, ukulele, mandolin, vocals (1991-2012)
Jeff Fatt (Purple) - Keyboard, accordion, guitar, vocals (1991-2012)
Greg Page (Yellow) - Vocals, guitar, drums, keyboards (1991-2006, 2012)
Other former members:
Phillip Wilcher - Piano, vocals (1991-1992)
Sam Moran (Yellow) - Vocals, guitar, drums, trumpet (2006-2012)
Emma Watkins (Yellow) - Vocals, drums, guitar (2012-2021)
Kelly Hamilton (Yellow, supporting member) - Vocals (2021-2022)
---
Studio discography:note
1996 - Wiggly, Wiggly Christmas
1997 - The Wiggles Movie Soundtrack
1998 - Toot Toot!
1999 - Wiggle Time!note
1999 - Yummy Yummynote
2000 - It's a Wiggly, Wiggly World!
2000 - Yule Be Wiggling
2001 - Hoop-Dee-Doo! It's a Wiggly Party!
2002 - Wiggly Safari
2002 - Wiggle Bay
2003 - Go to Sleep Jeff
2003 - Whoo Hoo! Wiggly Gremlins!
2003 - Top of the Tots
2004 - Cold Spaghetti Western
2004 - Santa's Rockin'!
2005 - Sailing Around the World
2006 - Here Comes the Big Red Carnote
2006 - It's Time to Wake Up Jeff!note
2006 - Racing to the Rainbow
2007 - Getting Strong!
2007 - Pop Go the Wiggles
2008 - You Make Me Feel Like Dancing
2008 - Sing a Song of Wiggles
2009 - The Wiggles Go Bananas!
2009 - Hot Poppin' Popcorn
2010 - Let's Eat
2011 - Ukulele Baby!
2011 - It's Always Christmas with You
2012 - Surfer Jeff
2013 - Taking Off!
2013 - Furry Tales
2013 - Pumpkin Face
2013 - Go Santa Go
2014 - Apples and Bananas
2014 - Wiggle House
2015 - Rock & Roll Preschool
2016 - Wiggle Town
2016 - Dance, Dance!
2017 - Nursery Rhymes
2017 - Duets
2017 - Wiggly, Wiggly Christmasnote
2018 - Nursery Rhymes 2
2018 - Wiggle Pop
2019 - The Wiggles' Big Ballet Day
2019 - Party Time!
2020 - Fun and Games
2020 - Choo Choo Trains, Propeller Planes & Toot Toot, Chugga Chugga, Big Red Car
2021 - Lullabies with Love
2021 - Halloween Party
2022 - Super Wiggles
2022 - Wiggly Nursery Rhymes
2023 - Ready, Steady, Wiggle!
2023 - The Sound of Halloween
---
Big Red Tropes
---
And we're all fruit salad, yummy yummy
All in the same bowl