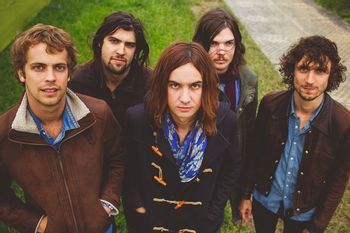 "Somebody grabbed his collar
He cried the whole way home
Nobody remembered a thing when they saw him again
That's how it is 'til the end"
— "Elephant"
Tame Impala are a five piece Psychedelic Rock band from Perth, Western Australia. Originally beginning as Kevin Parker's solo recording project in 2007, Tame Impala signed a deal with Modular Records, with the band now adding Dominic Simper (then) on bass and Jay Watson (then) on drums. The group then expanded, including Nick Allbrook on bass (Simper started playing guitar post-2009) and Julien Barbagallo on drums (Watson started playing synth in 2011). In 2013, Nick Allbrook left the band to pursuit personal endeavours, and was replaced by Cam Avery of Pond.
The release of their first EP helped them build up credibility amongst the Perth music scene, but their 2010 debut album Innerspeaker and the 2012 followup Lonerism helped cement a global reputation and fanbase; some even going as far as proclaiming them as currently the best band in the world. From 2009 onwards, their works have been consistently nominated for awards and helped expose Perth's psychedelic scene to the world. Tame Impala, however, remains the most well-known band of the scene by volumes.
After Parker's perfectionism had the album delayed by two months, the group's next album, Currents, was released on July 17, 2015, to a critical acclaim. The electronica-influenced album received a 9.3/10 from Pitchfork, with reviewer Ian Cohen comparing it to Loveless, Kid A, and Yankee Hotel Foxtrot in terms of musical creativity. Fans were initially more divided, but as time went on the album began to receive more praise. Commercially, Currents quickly became Tame Impala's most successful album by far, debuting at number 1 in Australia, number 3 in the UK and number 4 in the US.
Discography:
Innerspeaker (2010)
Lonerism (2012)
Currents (2015)
The Slow Rush (2020)
---
The Less I Trope the Better: