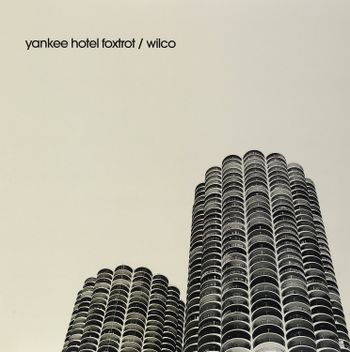 Oh, distance has no way
Of making love
Understandable
— "Radio Cure"
Yankee Hotel Foxtrot is the fourth studio album by American indie rock group Wilco, released in 2001 after one of the most notorious productions in music history.
Under the working title of Here Comes Everybody, it originally consisted of a six-track demo before conflict began to arise over Ken Coomer's drumming. Proposed by singer Jeff Tweedy and unanimously agreed upon almost straight away by the rest of the band, Coomer was replaced by Glenn Kotche, whom Tweedy had performed with a year earlier in the trio Loose Fur.
The album featured a sample from The Conet Project: Recordings of Shortwave Numbers Stations, specifically the fourth track Phonetic Alphabet - Nato. The woman repeating the phrase "yankee hotel foxtrot" was sampled and included in the track "Poor Places", which would later prompt a lawsuit from the copyright owners, Irdial-Disc. Tweedy brought experimental musician Jim O'Rourke (whom he had collaborated with in Loose Fur) to mix the album; O'Rourke won over the rest of the band with his mixing of the album's opening track, "I Am Trying to Break Your Heart". Constant arguments between Tweedy and Bennett prompted Tweedy to kick Bennett out of the band after the album's completion. By early 2001, after a very stressful process, the album was finished and ready to be released.
Then Howie Klein, Reprise Records' president, and a big Wilco advocate, was fired.
The AOL-Time Warner merger resulted in the new executives terminating 600 jobs, including Howie Klein's role as president. His replacement was David Kahne, who dismissed the band due to lack of commercial success. Wilco's lawyer negotiated a buyout for the album: while the initial pricing was $50,000 for the rights to the album, Reprise later dropped the price altogether. Originally set for release on September 11, 2001, the group streamed the whole album on their website for free a week later to prevent low-quality MP3 rips from circulating on file-sharing sites, and Wilco was approached by Nonesuch Records to distribute the album for $50,000 - and the band struggled to get the money necessary.note Both Reprise and Nonesuch are divisions of Warner Bros. Music, essentially meaning that Warner paid twice for the same album. The album was finally released on April 23, 2002.
Despite seemingly everything working against it, Tweedy's decision to stream the album ended up being a major benefactor. Critical acclaim and positive word-of-mouth resulted in the corresponding tour generating a huge outcome (with the band noting that fans already knew the words to the songs). Reviewers couldn't stop giving the album perfect scores, and the album ended up being certified gold, becoming Wilco's biggest-selling album to date. Dubbed "the Apocalypse Now of music", Yankee Hotel Foxtrot has since gone on as one of music's biggest success stories, and one of the greatest of the 2000s.
---
Tracklist:
"I Am Trying to Break Your Heart" (6:57)
"Kamera" (3:29)
"Radio Cure" (5:08)
"War on War" (3:47)
"Jesus, Etc." (3:50)
"Ashes of American Flags" (4:43)
"Heavy Metal Drummer" (3:08)
"I'm the Man Who Loves You" (3:55)
"Pot Kettle Black" (4:00)
"Poor Places" (5:15)
"Reservations" (7:22)
---
Principal members:
Jeff Tweedy - vocals, acoustic and electric guitar, programming, harmonica
Jay Bennett – programming, acoustic and electric guitar, piano, keyboards, synthesizers, organ, bass, drums, percussion, lap steel, glockenspiel, vibraphone, bells, vocals
John Stirratt – bass, vocals
Leroy Bach - piano, acoustic and electric guitar, organ, glockenspiel, vibraphone, bass, percussion, horns
Glenn Kotche - drums, percussion, cimbalom, siren, chimes
---
I trope like a toothache when I hear myself sing:
---