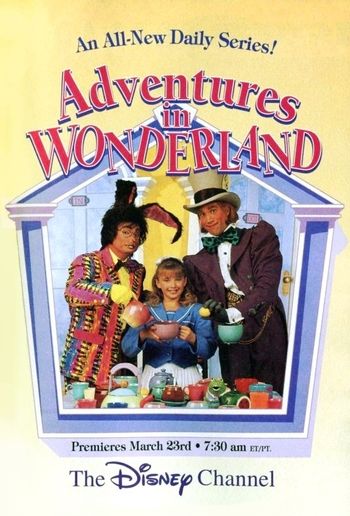 Use your imagination and you'll understand
It's an adventure in Wonderland.
—Theme song
Adventures in Wonderland is a live action children's sitcom and a loose adaptation of Alice's Adventures in Wonderland, which ran on the Disney Channel from March 1992 to 1995 and reran until 1998. In the series, Alice (played by Elisabeth Harnois) is portrayed as a teenage girl who can come to and from Wonderland simply by walking through her bedroom mirror (a reference to Lewis Carroll's Through the Looking-Glass).
The usual episode format consists of Alice coming home from school and talking to her cat, Dinah, about a problem facing her that day, then going into Wonderland and finding the residents (all of whom she considers her friends) facing a similar crisis, and returning to the real world with An Aesop relating to her own problem. Notably, most episodes include as many as three or four musical numbers. Along with standard life lessons, the series was meant to introduce young viewers to various literary conventions and elements of story.
The entire series finally became available on Disney+ starting April 30, 2021.note With the unsurprising exception of its O.J. Simpson episode.
---
This show invokes the following tropes:
Year Inside, Hour Outside: While the show never came down firmly on the question of how Wonderland and "real world" time differ, a few episodes drop clues that Alice returns to her bedroom mere seconds after her trips regardless of their length. "TV or Not TV?" is explicitly stated to take place over a period of three days, but when Alice comes back to sum up what she's learned to Dinah, she talks about the homework she has to do that night (the same homework that she was complaining about when the show started), so it's been a period of minutes at most. Similarly, "Christmas in Wonderland" happens over the course of at least eight hours (it's bright and sunny when Alice arrives, and nightfall at the end of the Wonderland segment), but again, she returns to the real world without any time elapsing.
Yet Another Christmas Carol: This time with a healthy eating theme! Tweedledum, who is apparently the "King of Junk Food," is visited by a Jacob Marley-esque Hare and the Ghosts of Nutrition Past (the Hatter), Present (the Queen), and Future (the White Rabbit) to learn about the consequences of his diet.
You Mean "Xmas": Averted with Valentine's Day, Halloween and Christmas, which are all celebrated in Wonderland, albeit in unusual ways, but played straight with the Thanksgiving-esque "Thanks-A-Lot Day."
---