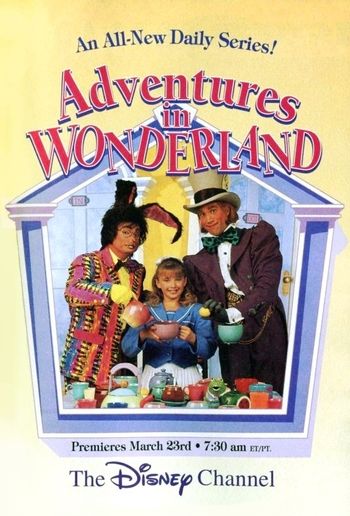 Use your imagination and you'll understand
It's an adventure in Wonderland.
—Theme song
Adventures in Wonderland is a live-action children's sitcom and a loose adaptation of Alice's Adventures in Wonderland, which ran on the Disney Channel from March 1992 to 1995 and reran (both on the Disney Channel and in syndication) until 1998. In the series, Alice (played by Elisabeth Harnois) is portrayed as a teenage girl who can come to and from Wonderland simply by walking through her bedroom mirror (a reference to Lewis Carroll's Through the Looking-Glass).
The usual episode format consists of Alice coming home from school and talking to her cat, Dinah, about a problem facing her that day, then going into Wonderland and finding the residents (all of whom she considers her friends) facing a similar crisis, and returning to the real world with An Aesop relating to her own problem. Notably, most episodes include as many as three or four musical numbers. Along with standard life lessons, the series was meant to introduce young viewers to various literary conventions and elements of story.
The entire series finally became available on Disney+ starting April 30, 2021.
---
This show invokes the following tropes:
---