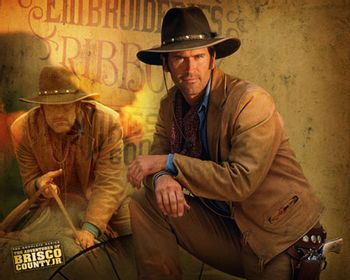 "The Wild West — Fox Style.
"
— The tagline used during the original run on the
FOX
network.
"One part Bond, one part Indiana Jones and 100% cool.
"
— The tagline used by Turner Network Television during reruns.
The Adventures of Brisco County, Jr. was a mid-nineties TV show which provided a unique mix of the classic western and science fiction genres similar to The Wild Wild West TV series of the '60s. Created by Jeffrey Boam (screenwriter of Indiana Jones and the Last Crusade and Inner Space) and Carlton Cuse (before Nash Bridges and Lost), the series starred B movie and television icon Bruce Campbell as the title character who, after the murder of his father (Marshall Brisco County, Sr, played by R. Lee Ermey) at the hands of the infamous John Bly gang, is hired by the wealthy members of the Westerfield Club to recapture John Bly (played by Billy Drago) and his gang of 12.
Brisco is a graduate of Harvard Law School (with a theater minor) who is an implausibly accurate gunman, One-Liner King and ladies man with killer jawline and an almost permanent 5-o'clock shadow (Hey, it's Bruce Campbell, you expected something else?). He is smooth, quick-witted, durable, extremely creative and annoyingly hard to kill (he was even brought back from the dead once). After being hired by the "Robber Barons" of the Westerfield Club, Brisco (along with his horse, Comet) is immediately paired with the club's personal lawyer Socrates Poole (Christian Clemenson) who will be the middle man between them and their employee, Brisco. While searching for the escaped members of John Bly's gang Brisco obtains a reluctant partner in fellow bounty hunter Lord Bowler (Julius Carry), comes to know (quite well) a woman by the name of Dixie Cousins (Kelly Rutherford), slightly crazed scientist Prof. Albert Wickwire (John Astin) and a large number of guest characters. The secondary plot of the show revolves around a mysterious golden "Orb" which was uncovered by Chinese railroad workers and contains possibly mystical powers. Its true origin and purpose is something Brisco must discover.
The Adventures of Brisco County, Jr. ran on the FOX network for a total of 27 episodes from August 27, 1993 to May 20, 1994 and was then cancelled. And that despite the network having much faith in it, feeling it would raise their audience at the Friday Night Death Slot and even give some residual viewers to the sci-fi show that followed - The X-Files, which became the runaway hit Brisco County, Jr. was expected to be! The theme music
is composed by Randy Edelman and is used by NBC during their Olympics coverage.
---
This TV series provides examples of:
Badass Biker: A whole gang of them, really (yes, this is still largely a Western show...largely).
Bank Toaster: The episode "Crystal Hawkes" features a scene where Brisco steps into a bank offering a free branding iron to anyone opening a new account.
Book Dumb: Bowler may be slow on intellectual matters, but he's quite brilliant when it comes to tracking fugitives.
Boom Town: No Man's Land, a boom town with a population made entirely of women.
Bounty Hunter: Aside from Brisco and Bowler, many other bounty hunters also appear in the show. Most notably in the episode "Bounty Hunters Convention".
Chained to a Railway: In the pilot episode, Brisco and Lord Bowler are tied to the railway tracks by the John Bly Gang.
Character as Himself: "...with Comet" - actually played by four horses, each with a specific area of training (gestures, riding tricks, etc.). Bruce Campbell mentions on the commentary that there were a few times where he had to break it to an episode's director that a shot they wanted with Comet was impossible, due to requiring two different horses.
Chekhov's Gun:

Quite literally with Brisco's own gun, which has a connection with the Orb.
Conveyor Belt o' Doom: Examples include Brisco being tied to a log in a sawmill, tied to railroad tracks, tied up with wet rawhidenote , stuck in a soon-to-be exploding boiler room, tossed into quicksand, dumped down a well, stuck in a burning barn, the ax-throwing trick, tied to a metal pole in a thunderstorm, acid bath (actually intended for the victim in the room above Brisco but nearly gets him when it falls through the ceiling) and much more.
Cool Gun: Aside from having a pretty, sculpted pearl handle, Brisco's gun, which was also his father's, holds a secret.
Cool Horse: Brisco's horse Comet can even open combination locks. And knows Morse code. So naturally, Brisco is inclined to quibble over small details.
Counting Bullets: Brisco tricks a young gun-shooter into wasting his bullets before he shoots off his gun-belt.
Covers Always Lie: The DVD synopsis ends with "Let's play cowboys and aliens!" There are no extraterrestrial beings on the show.
Cowardly Lion: When forced into action Socrates is always going to be utterly terrified, but he will NEVER abandon Brisco.
Creator Cameo: Carlton Cuse as an artist Pete hires in the pilot.
Crouching Moron, Hidden Badass: While certainly not stupid, Socrates often finds himself out of his element and struggling to keep up with Brisco and Bowler. Every once in a while however he manages to do something EXTREMELY brave and competent, often to the surprise of his friends.
Deadly Dodging: In the first episode, Brisco is about to be shot by four bandits who form a perfect cross around him. He decides to duck at the last moment and the bandits kill each other simultaneously.
Deadpan Snarker: U.S Attorney Breakstone.

Socrates: Rita Avnet is obsessively in love with me.
Breakstone: I'm sorry. You'll forgive me for laughing.
Socrates: But...you're not laughing.
Breakstone: Trust me. On the inside...I am.'
Double Entendre: Dixie is a master at these, which is frequently Lampshaded by Brisco.
Framing Device: The episode "Ned Zed" is framed by a father reading to his son from a "The Adventures of Brisco County, Jr" dime novel.
Fun with Acronyms: Unearthed Foreign Object
Funny Foreigner

Enzio Tataglia: [Sitting at a table in the middle of town] In my country we have a saying "If you yodel in the forest , the yoohoo that you yoohoo will be the yoohoo that you get back."
Brisco County Jr.: Where were you from again?
General Ripper: General Quarry is a thoroughly cynical version of this, deliberately framing a Mexican revolutionary to start a war with Mexico, solely to satisfy Quarry's own political ambitions.
Genre Savvy: Brisco is this. Unfortunately circumstances usually end up leading him to the dramatic climax that he's already described in detail and was trying to avoid.
Genre Shift: Starting with

"Bye Bly" where John Bly is killed and the Orbs returned to the future

, so the genre shifts slightly out of fantastical Sci-Fi and into less fantastic western espionage for the rest of the series.

Bowler: Brisco, can we just be cowboys from now on?
Girl of the Week: Somewhat subverted in Dixie Cousins as a regular Love Interest, but played straight in almost every other episode...including with New Old Flame Annie Cavendish, whom he promised to return to one day. Next week, she's forgotten. of course.
Good Cop/Bad Cop: Given a certain twin German Amazonian blacksmiths kinda twist. The good cop flirts, while the bad cop makes to beat the hell out of the person.
Hidden Depths: Bowler is actually very careful with his bounty money, getting himself a lavish and well-furnished mansion. He also later reveals that he served in the military.
Historical In-Joke

Mexico has a county named Brisco out of gratitude for his actions in "Brisco in Jalisco."
Sheriff Viva invented sunglasses (though he called them "dayglasses").
I Lied: A villain does this to Pete Hutter in the episode "And Baby Makes Three".
Improbable Aiming Skills: And how! Brisco's gunplay in the final act is usually without error. During his duel with Utah Johnny Montana, he's able to shoot a bullet up Montana's gunbarrel and blow up his revolver in his hand.
Ironic Echo: As a Running Gag throughout "Socrates' Sister", people keep commenting that Socrates is carrying "too much weight" during his ill-planned quest to rescue his sister. At the end of the episode,

after the rope that leads to Jack Randolph's diving suit snaps, dooming him to death by drowning

, Prof. Wickwire ruefully comments that there was "too much weight."
Magic Compass: In one episode Socrates is given an object which glows when pointed towards an Orb.
Moody Mount: Brisco's horse Comet is like this sometimes, when they've had a spat. He also gets this way in "Steel Horses" when he's initially outclassed by the motorcycles.
Mook Promotion: In the first Swill brothers episode, they're led by the eldest brother, Gill. At the end of that episode, Gill is Killed Off for Real, but Will, Bill, and Phil are all caught alive. In their second episode, the next eldest brother, Will, is in charge.
Ms. Fanservice:

Dixie Cousins by far. Often wearing Of Corsets Sexy or very beautiful dresses. She is pretty much the eye candy to all the male characters.
Karina, the naked time traveler, from "Bye Bly" also counts. While mostly covered by Scenery Censor, we do see a fair bit of skin from her. Even when only wearing her blazer, she shows off some nice legs.
Noodle Incident

An example from the episode "Hard Rock" where there's a buckboard wagon stuck in the side of the second floor of a building:

Brisco: What's with the buckboard?
Sheriff Viva: Wagon-jumpin' contest...got out of hand.

A more serious example in another episode when Brisco calls Bowler on being distrustful of others, asking if he even has any friends. Bowler responds that he did once, but "It didn't work out."
As Bowler explains his New Old Flame to Brisco, he has to reveal his last name was originally "Lonefeather." When Brisco asks why he changed it, Bowler simply asks him which story he'd rather hear at this point.

Of Corsets Sexy: what Dixie wears to seduce Brisco, and later, she wears a corset and fishnets in her burlesque show.
A Pirate 400 Years Too Late: One member of John Bly's gang and his lackeys were a group of actual pirates. Somehow or another they'd gotten driven off the high seas, so they took to pirating on the American plains. It's also a literal example of this trope, as they're very much classical pirates (maybe 17th century-ish), but the show is supposed to take place right around the turn of the 20th century.
Power Trio: Brisco (ego), Bowler (id), and Poole (superego)
Pun-Based Title: Almost every chapter title per episode. After the pilot, always two there are: EX: "I'll be Sawing You in All the Old Familiar Places"; "When All is Zed and Done").
The Reveal: In "Fountain of Youth,"

Bly is revealed to be a time-traveler from 612 years in the future

.

He came to get the Orbs so that he could conquer the world in his time

.
Revenge Before Reason: Generally averted with Brisco himself. He's hunting the men that murdered his father, but as personal as the loss was, he is content to bring them to justice. Played straight, however, when Brisco encounters the man responsible for his mother's death. Brisco takes two beatings when he tries fighting head-on as opposed to using his wits.
Scary Black Man: Both played straight and subverted in Lord Bowler. He tries to be this trope and sometimes succeeds...when his own dimwittedness and/or soft heart don't subvert the attempt.
Shameless Fanservice Girl: Karina in "Bye Bly". She is a naked time traveler from the future. She travels naked because it's easier for the process. Though she appeared to have no problem being seen naked by Brisco and his friends, but she does cover up when she realizes Brisco found her nudity distracting. Of course the only thing she wears is a blazer.
Story Arc: The Orb and tracking the John Bly gang

which are part of the same arc

.
Superstition Episode: In a Halloween Episode Briso & Bowler have to deal with Bad Luck Betty, a superstitious deputy, while on a case. Where she goes bad luck follows, although she always says it's an accident - while also following various superstitions. For example, she managed to put the sheriff in a full body cast: she tossed salt over her shoulder just as he came in, which made him lose his footing and a grandfather clock fell on him.
Super Strength: One of the benefits of possessing the Orb.
Tempting Fate: When Brisco is framed for murder and captured by another bounty hunter, he easily escapes the ropes she ties him up with and advises her to invest in chains instead as he escapes. Not long afterward she catches him again, and it turns out she took his advice.
They Killed Kenny: Pete Hutter is supposedly killed more than once and other characters are usually surprised to see him again.

Brisco County Jr.: We heard you were alive, Pete.
Lord Bowler: We just didn't believe it. We saw you get killed by that Chinese death star with our own eyes.
Pete Hutter: Well that's the thing about your Chinese death stars, An hour later and you're alive again.
Twilight of the Old West: Given the prominent themes of science and technology in the series this is inevitably referenced. Brisco interestingly is actually hoping this happens, not too perturbed over the age of cowboys ending thinking it will signal in a bright new age of law enforcement.
Twofer Token Minority : Bowler is referred to as a "half-breed" in the pilot, and other episodes refer to him being part Cherokee. He is black, but Bowler's hair, clothing, earrings, and aspects of his character come from his Native American heritage. Also falls under Truth in Television, as Julius Carry does have Native American ancestry.
Women Are Wiser: In "Deep in the Heart of Dixie," it's Dixie that makes Brisco and Bowler finally realize they'd get more done working together than separately.
The Worf Effect: Bowler gets a dose of this whenever some new character needs to be established as physically strong, like Crystal Hawks, or Ned Zed.
Worthy Opponent: Bly calls Brisco exactly that in "Fountain of Youth."
You Have Failed Me: In "Deep in the Heart of Dixie," after a botched attempt to kidnap Dixie, lead villain Smiles poisons the subordinate that screwed up.
---