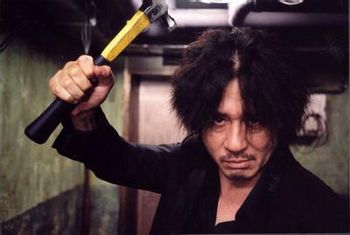 "Laugh and the world laughs with you. Weep and you weep alone."
Oldboy is a South Korean movie very loosely based on the Japanese manga of the same name, and is the second and most well-known installment of Park Chan-wook's "Vengeance Trilogy", which begins with Sympathy for Mr. Vengeance and ends with Sympathy for Lady Vengeance. The film also has several parallels to The Count of Monte Cristo, as well as Shout Outs to Titus Andronicus and Oedipus the King.
Oh Dae-su is an alcoholic businessman with a wife and daughter who is released by the police after a night of drunken misconduct, and then is abruptly kidnapped without a trace. Locked inside a hotel room, completely cut off from the outside world except for a TV, and drugged with knock-out gas every so often, he eventually learns that during his disappearance his wife has been killed, and he has been framed as the murderer. Enraged by his predicament, he finds ways to pass the time, writing his memoirs, training his fists and slowly inching towards his eventual escape.
But days before his long-awaited breakout fifteen years later, he is just as mysteriously released, with nice clothes, money, a cell phone, a severely weakened psyche, a fugitive status, and a million unanswered questions. With the help of a female Japanese chef named Mi-do and one of his old computer-geek friends, No Joo-hwan, he tries to piece together the scattered clues of who took his life away from him, cutting down anyone who gets in his path.
An English-language remake was released on November 27, 2013, directed by Spike Lee and starring Josh Brolin, Elizabeth Olsen, Sharlto Copley, Michael Imperioli, Samuel L. Jackson, Pom Klementieff and Rami Malek.
Since this is a movie that has some major twists and surprises, watch out for spoilers.
---
The film provides examples of:
---