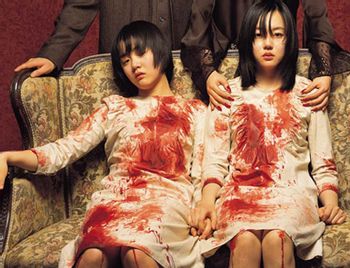 "Do you know what's really scary? You want to forget something. Totally wipe it out of your mind. But you never can. It can't go away, you see. And it follows you around like a ghost."
— Eun-ju
A Tale of Two Sisters (aka Janghwa, Hongryeon, literally Rose Flower, Red Lotus) is a 2003 South Korean psychological horror film by Kim Ji-woon. It is the first Korean film to be screened in American theatres.
The film is inspired by a Joseon Dynasty folktale entitled Janghwa Hongryeon jeon
, which has been adapted to film several times. An American remake titled The Uninvited was released in 2009 — not to be confused with a completely different Korean horror film from 2003 also titled The Uninvited, nor the 1944 American film of that name.
The film centers around two teenage sisters, the older Su-mi and the younger Su-yeon, returning to their father Moo-hyeon's house after a stay in a mental institution following the death of their terminally ill mother. They frequently clash with their new stepmother (formerly their mother's nurse), Eun-ju, who behaves in an incredibly difficult manner around them (and who becomes increasingly cruel and erratic over the course of the film). Coinciding with their return home, however, are several eerie and frightening events (doors opening by themselves, bizarre apparitions, strange sounds, and terrifying nightmares, amongst other things), and it quickly becomes uncertain if these events are real, a product of the girls' disturbed mental states, or the cruel mind games played by Eun-ju. Or is it something else entirely?
Known for having multiple unexpected plot twists and being very open to interpretation.
Definitely not to be confused with A Tale of Two Cities.
Warning: Some unmarked spoilers below.
---
This film contains examples of:
The Speechless: Su-mi absolutely refuses to speak in the opening scene and, later in the film,

when she is returned to the psychiatric hospital

, and it seems likely to be due to the trauma of everything she's been through.
Split Personality:

The Eun-ju seen throughout most of the film is actually Su-mi. The real Eun-ju only shows up towards the end, and in flashbacks and photographs.
Stringy-Haired Ghost Girl: Su-mi has a nightmare vision of a character like this in her bedroom. And, if you look closely, you can see that it appears to be the girls' mother (confirmed by Word of God).
Supernatural-Proof Father: Moo-hyeon never (knowingly) experiences anything supernatural. Averted in a deleted scene where

after telling Su-mi that Su-yeon is dead, an electric fan suddenly turns on behind him, without it being plugged in. He is visibly unnerved by this.

Through the Eyes of Madness: Most of the movie is through Su-mi's perspective, showing her hallucinations of Su-yeon and her Split Personality acting as Eun-joo.
Wicked Stepmother: Eun-joo clearly despises her stepdaughters from the start and mistreats them constantly, from talking down to them as if they're children to beating and locking one of them in a wardrobe and refusing to let her out unless she apologizes. The reality is slightly more complicated: the Eun-joo seen throughout the film is revealed to actually be Su-mi's Split Personality acting out her impression of Eun-joo, and the real Eun-joo only shows up in person at the end to help Moo-hyeon take Su-mi back to the institution. She initially seems to be a subversion because she speaks kindly to Su-mi and promises to visit her, despite Su-mi's rejection, but then it turns out that Eun-joo deliberately let Su-yeon suffocate to death under a wardrobe to spite Su-mi for talking back to her, making her fulfill this trope after all.
Worst Aid: Physically restraining someone having a seizure, on their back.
---