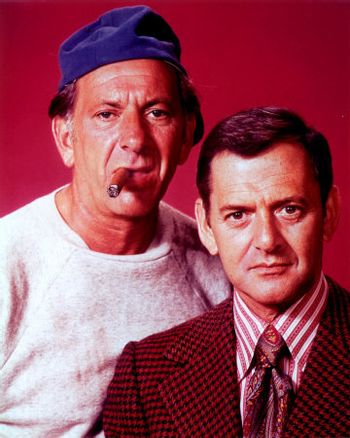 The Odd Couple is a 1965 Broadway play by Neil Simon, which was later adapted into a 1968 movie, which itself was later adapted into a sitcom which ran from 1970-1975. All three are highly regarded. The play also spawned a couple less highly regarded television adaptations: The Oddball Couple, a 1975 animated series (starring a cartoon dog and cat), and The New Odd Couple, a 1982 sitcom with black actors in the lead roles.
A third live action series starring Matthew Perry and Thomas Lennon premiered on February 19, 2015. It has its own page here.
Simon has rewritten his original play twice: first in 1981 as The Female Odd Couple, a Gender Flip version of the piece, and again in 2002 as Oscar and Felix: A New Look at the Odd Couple, which is basically the original play updated with more contemporary jokes and references.
The premise is simple: Neat Freak photographer Felix Ungarnote Unger in all three TV series (Art Carney on stage; Jack Lemmon on screen; Tony Randall, Ron Glass and Thomas Lennon on TV) is kicked out by his wife, and with no place else to go, must move in with his friend, sports writer Oscar Madison (Walter Matthau on stage and screen, Jack Klugman on stage and TV, Demond Wilson and Matthew Perry on TV), a total slob. The TV show added a small supporting cast, including Murray, a dim-witted but lovable police officer.
---
Tropes:
CONTINUE REVIEWING TROPE LIST HERE
And even then, Felix doesn't know when to quit until he has angered the judge enough for him to indict both Felix and Oscar with contempt of court.
The wedding is rescheduled for the next day, and when the same part of the ceremony is reached, the same objection is raised... this time by Oscar himself, who, in spite of everything, realizes that Felix was right and he can't let this continue.
---