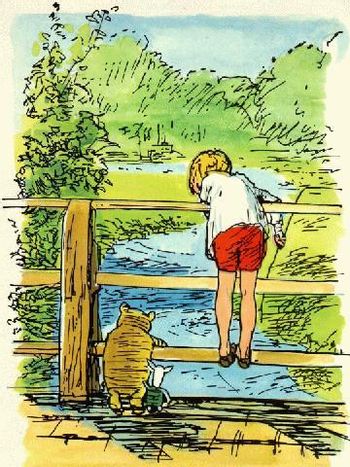 "This could be the room of any small boy, but it just happens to belong to a boy named Christopher Robin. Like most small boys, Christopher Robin has toy animals to play with, and they all lived together in a wonderful world of make-believe. But his best friend is a bear called Winnie-the-Pooh — or, "Pooh" for short. Now Pooh had some very unusual adventures, and they all happened right here in the Hundred Acre Wood."
Winnie the Pooh is a media franchise based on the children's book Winnie the Pooh written in 1926 by author A. A. Milne and illustrated by E.H. Shepard.
A good example of Adaptation Displacement as a result of the cartoons based on it by Walt Disney, who produced three short featurettes in the 1960s (with music by the legendary Sherman Brothers) that were bundled together in one theatrical release and started one of Disney's most lucrative merchandise-driven franchises. In fact, Disney estimates that merchandise based on the Pooh characters brings in as much revenue as merchandise featuring the characters Mickey Mouse, Minnie Mouse, Donald Duck, Goofy, and Pluto combined. The characters got a regular TV series on Disney Channel, Welcome to Pooh Corner (1983-86) (also featuring music by the Shermans), which aired in reruns well into the 1990s, and the '90s also saw a revival of several new movies based on the franchise. Disney does not own the characters outright, so they must still credit A.A. Milne's estate every time they use an image or clip, or produce a film based on Winnie-the-Pooh.
Russian cartoons were independently released and contained a totally different art style.
Kenny Loggins gave the characters a Shout-Out in their hit song "House at Pooh Corner," originally recorded by the Nitty Gritty Dirt Band and later covered twice by Loggins (the second time retitled the song "Return to Pooh Corner" and added some new lyrics and guest vocals by Amy Grant). Loggins would later perform two songs featured in Pooh films, "Your Heart Will Lead You Home" (The Tigger Movie) and "Underneath the Same Sky" (Tigger & Pooh and a Musical Too, musical video version). Benjamin Hoff appropriated the characters for his Fiction Science (really, Fiction Theology) books The Tao of Pooh (1982) and The Te of Piglet (1992); Roger E. Allen did the same for his Fiction Business Administration books Winnie the Pooh on Management (1994), Winnie the Pooh on Problem Solving (1995), and Winnie the Pooh on Success (1997).
In 2009, an authorised sequel by other hands was published: Return to the Hundred Acre Wood by David Benedictus. A second sequel The Best Bear In All The World was published in 2016, this time a compilation of short stories by many leading authors. The same year another book Winnie the Pooh Meets the Queen by Jane Riordan was also published. Once There Was a Bear, also by Riordan, was published in 2022, and is a Prequel describing how Pooh first meets Christopher Robin and his other friends.
On January 1st, 2022, the first Winnie the Pooh book entered the US public domain, meaning that anyone in the US can now use Pooh and friends (aside from characters introduced in The House at Pooh Corner (which includes Tigger), which won't be added until 2024)note Only the versions seen in the books are in the US public domain, the Disney incarnations are still copyrighted and will remain so until the 2060s
Pooh, of course, has a Wiki, which you can find here
.
---
Disney's Winnie the Pooh
Films
The three original animated featurettes Disney made with the characters: Winnie the Pooh and the Honey Tree (1966), Winnie the Pooh and the Blustery Day (1968), and Winnie the Pooh and Tigger, Too (1974). These were subsequently incorporated into the feature-length compilation The Many Adventures of Winnie the Pooh (1977). A fourth featurette, Winnie the Pooh and a Day for Eeyore (1983), was also released, though it was done outside of Disney Animation.
Winnie the Pooh (2011) — Continuation of the Winnie the Pooh franchise, which goes back to A.A. Milne's books to animate stories that weren't done in the original.
Other theatrical films
All but one were produced by Disney's DTV/television animation squad, but were theatrically released (as opposed to most DTVs) because of the franchise's popularity. However, they aren't part of the
Disney Animated Canon
.
---
There are also several direct-to-video movies that share canon with the movies above, though there are too many to list here;
The Other Wiki has a more exhaustive list
.
---
Television
Welcome to Pooh Corner — a live-action/puppet show that ran from 1983 to 1986 and in reruns for years after on various networks. It was ultimately the Trope Namer for...

Too Smart For Strangers — an educational direct-to-video production based on the above show that was made in order to teach about stranger danger.

The New Adventures of Winnie the Pooh — an animated TV series made during Disney's renaissance age and ran from 1988 to 1991.
The Book of Pooh — a live-action series in the style of Welcome to Pooh Corner (though with full-on puppets instead of full-bodied costumes with animatronic heads) run on the Disney Channel from 2001 to 2002.
My Friends Tigger & Pooh — an All-CGI Cartoon run by Playhouse Disney, 2007-2010. As of 2016, the series has been made available on Disney Junior's online/mobile service.
"Into the Hundred Acre Wood" — In addition, the Pooh cast also Crossed over into an episode of Doc McStuffins.
Winnie the Pooh (working title) — In Spring 2022, Disney would announce a new short form musical series for Disney Junior. Release date is TBA.
Video Games
Winnie the Pooh: Adventures in the 100 Acre Wood (2000, GBC) — a series of board games, not unlike Mario Party, just without the minigames and powerups. It had "Stories" that followed Many Adventures and could be unlocked with Good or Bad endings.
Tigger's Honey Hunt (2000, N64, PS1, PC) — Movie Game for The Tigger Movie in which Tigger is the only playable character. A pretty solid platformer, can give even experienced players a challenge if they wish to get 100% even if it is short.
Kingdom Hearts (2002-, PS2, GBA, PSP, PS3, PS4, XONE) — The 100 Acre Wood acts as a Minigame Zone in the three main numbered installments and Chain of Memories, and a level in a Monopolyesque minigame in Birth by Sleep.
Piglet's Big Game (2003, GCN, PS2, Xbox) — Movie Game for Piglet's Big Movie. Like the game before it, can be hard after the first few levels. Piglet must venture into his friends' dreams and help conquer his, and their, fears. Pooh and Tigger are also playable in some areas; Pooh must flee from Heffalumps and Woozles as his tummy reveals him to them, and Tigger must Solid Snake his way around enemies. Complete with Mickey Mousing.
Winnie the Pooh's Rumbly Tumbly Adventure (2005, GCN, PS2, GBA) — sort of a spiritual sequel to Big Game using the same engine (sans GBA version) and gameplay style. Except you play as Pooh instead of Piglet. Occasionally, you play as Eeyore and collect all of whatever needs required gathering; Piglet, who plays as he did in Big Game, and Tigger, who also plays like he did in Big Game. Unfortunately, this one is much easier and shorter. Sometimes, Pooh will be chased as well, and you must pop a balloon to scare away his pursuers. Heffalumps and Woozles, of course. Strangely, this game was made to promote Pooh's Heffalump Movie and portrays Heffalumps as evil much like normal.
Disney Friends (2007, DS) — Pooh appears as an interactive friend, with Eeyore, Piglet and Tigger making appearances in adventures.
Winnie the Pooh's Home Run Derby (2008, Browser) — Achieved Memetic status in 2013 due to being Nintendo Hard.
Disney Magical World (2014, 3DS) — The Hundred Acre Wood is one of the worlds that players can visit; unlike the others it has no Dungeon Crawling and instead focuses on interacting with Pooh and his friends.
Disney Heroes: Battle Mode (2018, IOS, Android) — Several characters (Pooh, Tigger, Eeyore) are included in the game.
Disney Sorcerer's Arena (2020, IOS, Android) — Pooh (with Piglet assisting), Tigger and Eeyore are playable characters.
Book series
Oh, Bother! Books (1991)
Out and About With Pooh (1996)
Just Be Nice Books (1996)
Lessons from the Hundred-Acre Wood (2000)
I Can Read With Pooh (2005)
Comics
There was a comic magazine with Winnie-the-Pooh stories (with the name of Disney attached) published by Gold Key Comics from 1977 to 1984; its Finnish equivalent started in 1981 and is still ongoing as of 2014 — who knows where their later material came from. (They started reusing old stuff at some point, but only after many more years of new material.) The stories were similar to the Disney cartoon episodes but more restrained, with less zany and fantastic themes - although in many of the strips the cast acts completely out of character, with Pooh acting like a Jerkass Troll. Unsurprisingly, the characters have made other comic appearances as well.
There was also a comic strip that may or may not have had something to do with the above.note
---
Non-Disney
Literature
Animation
Vinni Pukh — A series of Russian shorts based on the books.
Film
Goodbye Christopher Robin (2017) — A biopic of A.A Milne which revolves around the creation of the original books. Features Domnhall Gleeson as A.A Milne and Margot Robbie as his wife, Daphne Milne.
Winnie the Pooh: Blood and Honey (TBA) — A upcoming Slasher Movie directed by Rhys Frake-Waterfield, which follows Pooh and Piglet as they go on a rampage after Christopher Robin abandons them. No, we are not kidding.
Untitled animated prequel (2024) — A prequel animated film to the books directed by Mike de Seve (Madagascar) and co-written by him and John Reynolds (The Mr. Peabody & Sherman Show). It is planned to be a prequel to the books and to act as an "origin story" for Pooh and his friends when they were kids. It is also planned to be followed up with a TV show.
---
Tropes Related to...
Return to the Hundred Acre Wood:
The Best Bear in All the World
Canon Foreigner: Brian Sibley's "Winter" introduces Penguin, apparently inspired by discovering the real Christopher Robin did in fact own a toy penguin which never made it into the stories.
Disney Canon:
Breakout Character

Tigger wasn't really a major character in the books, appearing only in the second book, The House at Pooh Corner. In the Disney adaptations, he got bigger and bigger roles until he ended up as the franchise's main star apart from Pooh himself.
Canon Discontinuity: A few story elements are out of place with the original books, the modern films also contradict Many Adventures in places. For example, in the latter Tigger meets Pooh in A Blustery Day, with Kanga and Roo already being established characters in both the beginning of the film and The Honey Tree before it. However in Piglet's Big Movie Tigger is present and already acquainted with Pooh in a flashback of Kanga and Roo moving to the Hundred Acre Wood. Gopher is nowhere to be seen in the 2011 film.
Canon Immigrant: Plenty. Disney loves throwing this trope into the Pooh franchise every now and then. In order of introduction:

Gopher, made for Winnie the Pooh and the Honey Tree. He's *whistle* not in the book.

Gopher: And I'm a dingdang glad of it!

Kessie the bluebird. First appeared in The Adventures of Winnie the Pooh. Also introduced in the series were the villains Stan Woozle and Heff Heffalump. Wikipedia also mentions Owl's cousin Dexter, Junior Heffalump (and his parents), Skippy the Sheepdog, as well as Christopher Robin's mom appearing as a torso-down shot character.
Lumpy and Mama Heffalump from Pooh's Heffalump Movie.
Heffalumps and Woozles in general. While they are mentioned in the book, they're never shown. In fact, they're implied to be imaginary creatures and don't exist at all (even within the imaginary world of Pooh).
Darby and Buster in My Friends Tigger and Pooh. Also, Turtle, Mrs. Porcupine, and a bunch of other characters, some one-shot.

Cartoony Tail: Tigger has a springy tail that he can bounce on. Also, Eeyore has a tail that is like a normal donkey's except it is pinned into his body.
Eeyore's depressive state takes near oddball lengths at times. Nearly every member of the Hundred Acre Wood (even more cynical characters such as Rabbit and Eeyore) have a crippling naivete and childlike complex on occasion making the whole wood somewhat a Cloudcuckooland (then again what do you expect from a place consisting of a kid's sentient stuffed animals?).
Owl may qualify for his rantings about his family's history.
Rabbit is somewhat sane and has a functional work ethic, but comes up with his share of hare-brained schemes. Though some are in response to his garden being ravaged yet again.
Full-Length Features:
The Tigger Movie has "'Round My Family Tree", which has as many, if not more, pop culture references as "If I Didn't Have You".
Parodied in Springtime With Roo, with the camera constantly panning between Tigger and Roo singing in Rabbit's house and Rabbit in his garden, oblivious to the oddities going on inside, such as the gang morphing into balloons or magically coloring his living room in rainbow patterns.
Winnie the Pooh (2011) has one in Pooh's hunger-induced hallucination of a world made of honey, complete with a Shout-Out to Busby Berkeley.
This goes back to one of the originals, with "Heffalumps and Woozles".
Gold Key Comic Book
King Features Syndicate Comic Strip
---
"So they went off together. But wherever they go, and whatever happens to them on the way, in that enchanted place on the top of the forest a little boy and his bear will always be playing."
---