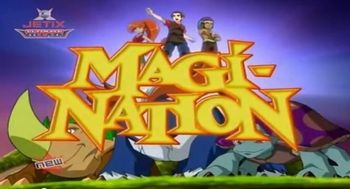 ''Your two worlds are colliding
You feel the tension rising
No time for hesitation
Gonna fight for the Magi Nation!
Gotta hit 'em hard with the Animite!
Gonna battle on 'cause you just might
Be the Final Dreamer!
Come on it's a generation
We're fightin' for the Magi Nation!
Callin' in for some competition
Gonna battle with the opposition
One day there'll be salvation
Callin' out from the Magi Nation
Yeah!
MAGI-NATION!
— theme tune
Magi-Nation is a Canadian–Korean animated television series based on the card game Magi Nation Duel. It diverges considerably from its source material to the point that it could be considered an In Name Only adaptation that also tries to be Edutainment too. The show has 2 seasons with 26 episodes each, though the last 12 episodes of the second season never aired due to low viewership and cancellation.
It aired on Kids' WB! early in the morning, and for kids with no cable or internet at the time, it was pretty enjoyable, aside from the aforementioned cancellation. In its home country of Canada, it appeared on CBC Kids.
As for the summary of the show itself: Three thousand years ago in the Moonlands, the evil Shadow Magi Agram was sealed inside the planet's Core by the Core Glyph and the Dreamstones which provided its power. Now he plans to escape by using his Shadow Geysers to weaken his prison in order to bring the Moonlands under his control, and only a Magi known as the "Final Dreamer" can stop him. A young boy from Earth, Tony Jones, is summoned into the Moonlands as he is believed to be this Final Dreamer. He joins forces with the apprentice Magi, Edyn, and the Shadow Stalker, Strag, on a mission to gather the Dreamstones before Agram is set free. Using the Book of Elders, the three travel through the Moonlands while combating the forces of Agram and gaining an ever-growing collection of Dream Creatures from the Moonlands that they visit.
Season two, has another quest taking the Dreamers around the Moonlands, this time to collect the guardian hyrens and merge them together to form the Final Hyren and stop Agram's influence once and for all. It contains a bit more plot in relation to Strag and Tony.
This series contains examples of these tropes:
---