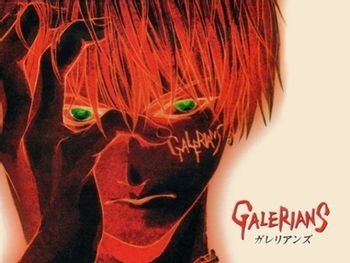 Waking up in an unfamiliar place can be an unsettling event. It's more so when you wake up alone and Strapped to an Operating Table. Especially with psychic powers and amnesia.
That's the boat that the protagonist of 1999's Galerians, 14-year-old Rion Steiner, finds himself in. When Rion hears a girl's voice calling to him for help inside his mind, he psychokinetically frees himself and sets about trying to find his way to her. Little does he know that the attempt will pit him against several other psychics known as Galerians, a whole army of robots, his growing addiction to PPECs, and Dorothy, a very angry supercomputer with a god complex.
The second game, Galerians: Ash, was released in 2002 for PS2, and involves the characters of the future reviving Rion from the dead in order to fight a new group of Galerians whose intent is to restore the aforementioned supercomputer at all costs. It has one of the strangest endings ever seen in a survival horror game.
There is also a CG-based movie which retells the first game, part of which is used in the "recap" sequence of the second game.
As with OverBlood and Blue Stinger, there's a good chance (but not always) you know of this game from Game Informer's Super Replay. The first Galerians was also the subject of a Retsupurae "Wrongpurae".
---
This game series provides examples of:
---