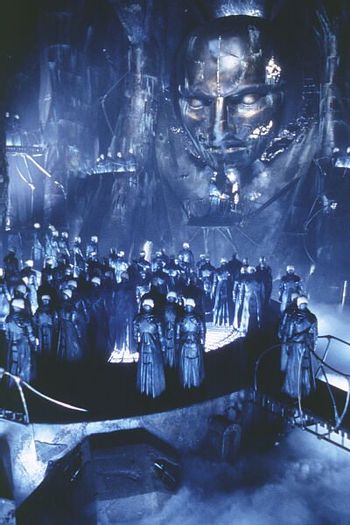 "A world where the night never ends. Where man has no past. And humanity has no future."
Dark City is a 1998 science-fiction film directed by Alex Proyas, starring Rufus Sewell, William Hurt, Kiefer Sutherland, Jennifer Connelly, and Richard O'Brien.
A man (Sewell) wakes up in a bathtub with no memories—he doesn't even recall that his name is John Murdoch until he checks his wallet. He finds a dead woman in the bedroom; so when the phone rings and the voice on the other end tells him to get out before "they" come for him, John does so. In spite of the damning evidence, John is convinced that he's not a killer, and he sets out to prove this, while evading the police... and the pale men in dark coats who have taken an interest in him.
Meanwhile, Emma Murdoch (Connelly) is contacted by one Dr. Daniel Schreber (Sutherland); he claims to be her husband's doctor and says that he desperately needs to speak with John. But it becomes increasingly unclear whether or not Dr. Schreber is really on John's side.
Meanwhile, Inspector Frank Bumstead (Hurt) is investigating a serial killer targeting streetwalkers—the dead woman in John Murdoch's room was the latest victim. The evidence does seem to paint John as the serial killer, but there are some pieces that just don't fit. Bumstead is beginning to understand why the last detective on this case went insane.
It's going to be a very long night for everyone.
Also worth noting: The opening monologue from the original cut spoils the movie to hell. (It was a last-minute addition at the behest of New Line Cinema.) It's recommended that you either watch the Director's Cut (which omits the narration) or mute the opening if you're watching the theatrical version. (Unmute at the closeup of the pocketwatch.) If you want spoilers, check out our synopsis page.
Not to be confused with the 1950 Film Noir of the same title starring Charlton Heston in his first starring role.
---
We need to list the tropes, Mr. TV Tropes, yes:
Exposition Beam: An Exposition Syringe. Doctor Schreber wants to give John a fighting chance against the reality warping Strangers, so he fills the last Syringe with both exposition and a lifetime of experience in using his matter manipulating powers. Carnage ensued.
Fan Disservice: We get a few shots of topless prostitutes, but since said prostitutes are dead and covered in spiral carvings at the time, it's hardly erotic.
Fake Memories:

Regularly and on a city-wide scale

.
Five-Man Band: The most prominent Strangers:
Film Noir: The whole movie is an homage to this combined with German Expressionism, you have a disturbed protagonist unsure of his own morality entangled in a web of lies far larger than himself, his beautiful nightclub singer lady friend, the stoic police inspector tracking him down, a sinister German doctor, and a whole bunch of sinister men in black trenchcoats hunting him down, all of it taking place in the city, at night, and in very heavily shadowed surroundings.
Five-Second Foreshadowing:

When John and Bumstead smash through the wall of "Shell Beach", Bumstead almost falls out but John saves him. Moments later, the Strangers attack and Bumstead goes out through the force-field for real.

Flashback Cut: John's shattered memories of Shell Beach.

Also how Dr. Schreber presents himself to John to teach him to master Tuning in mere seconds.

Focus Group Ending:

Test screening audiences were "troubled" by the notion that the entire city wasn't sucked out into space once the Shell Beach City Wall was breached. Thus, a last minute SFX addition of Bumstead and a Stranger drifting through a force field was created.

Forced Sleep: The Strangers have the ability to put people to sleep simply by waving a hand and saying "Sleep now."

They also combine forces to put the entire city to sleep so they can work undisturbed.

Foreshadowing: On repeated viewings, a lot of lines and shots can be seen to call forward to the plot twist:

John is noticeably bleeding from his forehead in the first scene, which not only foreshadows the memory injections but also the aliens in the Strangers' bodies, which enter and leave through wounds in their foreheads.

Crime Scene Cop:

Ever notice how these things always seem to happen in the middle of the night?

Bumstead notes that Emma seems unused to wearing her wedding ring.
The second song that Emma Murdoch sings. "So remember when you tell those little white lies/that the night has a thousand eyes..."
Murdoch taking the fish from it's shattered bowl and placing it in a bathtub.

Glowing Eyes of Doom: A subtle example whenever John uses his powers. Most noticeable right at the end, when his face is completely in shadow.
Good All Along:

Dr. Schreber.

Go Mad from the Revelation: Whatever Detective Walenski found out while investigating the case drove him utterly around the bend.
Gone Horribly Right: John Murdoch. The Strangers wanted to test humans and see what would happen. Murdoch happened. Dr. Schreber actually taunts them with this when they complain.
Graceful Loser:

Mr. Hand, after the rest of the Strangers are killed, admits he's dying and simply has a polite conversation with John where he explains his motives.

Graceful Ladies Like Purple: Emma wears a purple dress when performing "The Night Has A Thousand Eyes", and also has a purple coat she wears in the latter half of the movie.
Green and Mean: Invoked. Most of the clothes John has arranged for him are green

and the Strangers were planning to imprint him with the personality of a serial killer

.
Guns Are Worthless:

Inspector Bumstead learns this the hard and tragic way.

Happy Place: Shell Beach, which everyone knows yet no one knows how to reach. Unlike the perpetual darkness of the city, visions of Shell Beach are in bright, oversaturated sunshine.

Did it ever exist before John "created" it? Who can say?

Heel–Face Turn:

Dr. Schreber reveals that he's actually on humanity's side after all

.
Hero of Another Story: Some of the Strangers' conversations imply that Murdoch wasn't the first to wake up when he wasn't supposed to. Mr. Wall mentions an incident where another Stranger seems to have been killed, asking the others if they remember what happened "last time". It's possible that Detective Walenski was one of those people.
Homage: This film is a love letter to German Expressionism and the classic Film Noir era. See Shout-Out for more details.
Impaled with Extreme Prejudice:

Mr. Book is taken out by a telekinetically-thrown knife to the throat. Though the knife doesn't actually do him in, crashing into a water tower as he's flailing about does.

Info Dump: A well-done one, when Dr. Schreber explains the nature of the City to Murdoch and Bumstead.
Intrigued by Humanity: To an extreme degree! The Strangers' whole purpose in creating the city and performing their nightly experiments is to study humans in order to become like them and reverse the death of their species.

Murdoch

: You know how I was

supposed

to feel. That person isn't me—never was. You wanted to know

what it was about us that made us human

. Well, you're not going to find it

<<points at his head>>

in here. You were looking in the wrong place.

It Was a Gift: Bumstead's accordion, which

he thinks

he got from his late mother.
Light Feminine and Dark Feminine: The prostitute May is blonde, upbeat and friendly (Light). John's wife Emma is brunette, troubled and distant (Dark).
Living Labyrinth: The city transforms at 12 o'clock, new buildings sprouting up and others retracting.
A Long Time Ago, in a Galaxy Far Far Away...:

Where is the city? Has it been sealed from the world? No. There is no world - it's floating in space.

Lovecraft Lite:

There's an ageless race of squishy, invertebrate aliens who capture humans to toy with as they please, endlessly manipulating us for our entire lives, invisibly, and we are completely at their mercy...until one of us obtains their superpower, then the tables start to turn.

Knife Nut: All the Strangers carry nasty-looking extendable knives which they love to threaten people with.

Mr. Hand becomes a far more straightforward version of this after injecting himself with the memories meant for John.

Memory Jar: Dr. Schreiber implants Fake Memories into people's heads with syringes, and he's later seen concocting the fluids that make up these memories.
The Men in Black: The Strangers are aliens impersonating men in dark formal clothing who manipulate and threaten people. Interestingly, rather than the classical MIB archetype, they seem to be based a specifical real life case, that of a Herbert Hopkins, an UFO researcher who claimed to have been visited in 1976 by a hairless, pale-skinned man with a black hat who demonstrated supernatural powers.
Mind Rape: The entire premise of the mysterious syringes, and inverted when Mr. Hand makes use of John's memories to track him down.
Mind Screw: The premise is quite disturbing once you really start thinking through its implications. The movie starts with a white desk clerk changing to a black guy between camera cuts and just keeps rolling from there.
Mohs Scale of Violence Hardness: It rates a fairly light 7, with the two scenes of dead, topless prostitutes killed by the Strangers as the only explicitly gory scenes (we don't get to see the actual stabbings either, just the corpses afterwards). A couple of the other Strangers die in some fairly messy ways, but the effect isn't as gruesome due to the fact that their blood is bluish-black and not red.
Naked on Arrival: John Murdoch wakes up in a bathtub with no memories or a sense of identity.
The Night That Never Ends: Not only is it part of the film's atmosphere, it becomes a plot point.
Nightmare Fuel Coloring Book:

The murdered prostitute

's daughter draws one of the crime scene.
Noodle Incident: Apparently John wasn't the first "experiment" to wake up when he wasn't supposed to, and it's implied that another Stranger was killed as a result. When the Strangers are preparing to

inject Mr. Hand with John's memories

, Mr. Wall warns the others against the procedure, asking if they remember what happened "last time", and another Stranger agrees, lamenting "poor, poor Mr. [somebody]".
---