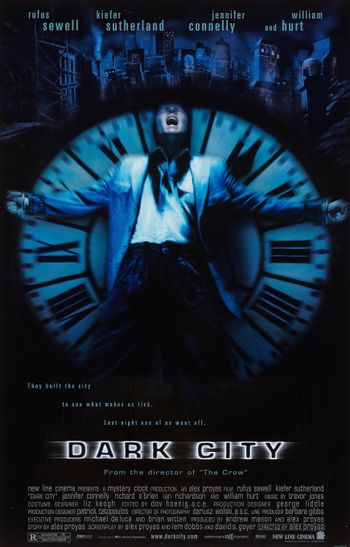 "A world where the night never ends. Where man has no past. And humanity has no future."
Dark City is a 1998 neo-noir science fiction film directed by Alex Proyas, starring Rufus Sewell, William Hurt, Kiefer Sutherland, Jennifer Connelly, and Richard O'Brien.
A man (Sewell) wakes up in a bathtub with no memories—he doesn't even recall that his name is John Murdoch until he checks his wallet. He finds a dead woman in the bedroom; so when the phone rings and the voice on the other end tells him to get out before "they" come for him, John does so. Despite the damning evidence, John is convinced that he's not a killer, and he sets out to prove this while evading the police... and the pale men in dark coats who have taken an interest in him.
Meanwhile, Emma Murdoch (Connelly) is contacted by Dr. Daniel Schreber (Sutherland); he claims to be her husband's doctor and says that he desperately needs to speak with John. But it becomes increasingly unclear whether or not Dr. Schreber is on John's side.
Meanwhile, Inspector Frank Bumstead (Hurt) is investigating a serial killer targeting streetwalkers—the dead woman in John Murdoch's room was the latest victim. The evidence does seem to paint John as the serial killer, but some pieces just don't fit. Bumstead is beginning to understand why the last detective on this case went insane.
It's going to be a very long night for everyone.
Also worth noting: The opening monologue from the original cut spoils the movie to hell. (It was a last-minute addition at the behest of New Line Cinema.) It's recommended that you either watch the Director's Cut (which omits the narration) or mute the opening if you're watching the theatrical version. (Unmute at the closeup of the pocketwatch.) If you want spoilers, check out our synopsis page.
Not to be confused with the 1950 Film Noir of the same title starring Charlton Heston in his first starring role.
---
We need to list the tropes, Mr. TV Tropes, yes:
---