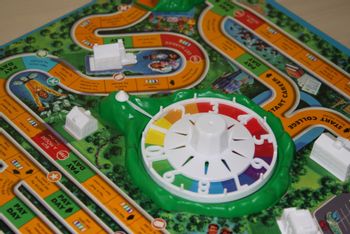 The Game of Life, originally known as The Checkered Game of Life, informally known as just Life, is a game created by Milton Bradley in which you literally go through your life, from college to retirement. Along the way, you start a career, get married, and even have children, if you're lucky. The game has evolved drastically over the years; while play pretty much remained the same from the 1960s through 1990, dollar values were occasionally adjusted for inflation, with the biggest change to the game coming in 1991. In 1998, a CD-ROM version of the game was created for PC, as well as PlayStation, and in 2005, the game was re-released with even further changes. As many as six (sometimes eight or ten) people can play the game, depending on how many game pieces Milton Bradley felt like putting into your copy of the game that day.
A typical turn of the game is as follows: Spin the multicolored wheel (numbered 1-10) in the middle of the gameboard, advance that number of spaces, and do what the space you land on tells you to (usually collect or pay money). Along the way, there are "Pay Day" spaces which give you a salary whether you land on or pass them, as well as spaces at which you must stop while participating in a major life event such as buying a house. You begin the game with two choices: go to college, which puts you at a financial disadvantage at first but gives you more career options; or go immediately into a job, but have fewer career options (in the original game, a flat salary lower than ANY job available on the "college" route.) Soon after that, you travel a bit before getting married. Then, you own a house. After that, it's pretty much free-for-all. You can land on spaces that cause you to lose your job, collect or pay money, have children, and more. The game ends with your retirement, the manner in which you do so determined by how quickly you ended the game, as well as how much money you think you ended with in comparison to the other players.
In the 1960-1990 version, milestones such as getting married and having children were celebrated by that player "collecting presents", small amounts of money from each of the other players. This was Retooled in 1991 to the collection of LIFE Tiles, which had a much more significant impact at the end of the game (awarding large amounts of money for "notable events" you were a part of during your life).
In the current version of the game, upon retirement you can choose to live in Countryside Acres (more or less a "safe zone") or Millionaire Estates (a route that offers more chances to score large amounts of cash, provided you arrive there first). In the classic version, all cars ended at the Millionaire space unless a player who was knowingly significantly behind attempted to force a Non Standard Game Over by risking everything on one spin of the wheel. Going for broke and failing resulted in that player being placed on the "Bankrupt" space, which would become the more forgiving Countryside Acres in the Retool.
This game was America's first popular parlor game. It shouldn't be confused with the cellular automaton "game" created by John Horton Conway. For stories about your everyday world suddenly taking on these rules, see Life Is a Game.
Special editions of the board games have been created for various franchises, such as Star Wars (2010), Pirates of the Caribbean (2004), Pokémon (Japan only), SpongeBob SquarePants (2005) and Family Guy (2008). Video game versions have been created for the Game Boy Advance and the Nintendo Wii, and bundles with the game Hasbro Family Game Night, which is available for PlayStation 3 and Xbox 360. There's also an iPhone app. A Game Show based on the board game, hosted by Frank Nicotero on Hasbro-owned The Hub, premiered on September 17, 2011, but was canceled in May 2012.
---
The board game provides the following franchise tropesnote :
The 1998 PC game provides the following tropesnote :
Minigame Game: "Enhanced Game" adds several of those to the game:

The "collecting presents" mechanic was brought back from the pre-1991 editions and was expanded to include child births (twin births and adoptions allow you to spin twice).
"Revenge" was also brought back. When you land on a "Pay Day" square, you get to steal your salary from another player.
On LIFE spaces, instead of collecting LIFE tiles, you spin again to determine whether you'll play one of "Life's Little Games" or collect a flat fee — the numbers are randomized, but spinning 10 multiplies your payout and, oftentimes, spinning 5 allows you to enact "revenge" with the payout (in those cases, you spin again). The mini-games include:

Cannonball: Two bills of each denomination* are hidden on the board. You have four chances to get as many pairs of those bills as you can; their denomination is added to your winnings.
Crane Dump: Somewhat reminiscent of Plinko, this game has you dump up to six balls with a crane into five slots, each worth a certain amount of money* . Each slot can only contain one ball at once: if another falls into the slot, both are destroyed, leaving the slot empty. You can quit before you use up your six balls. This game is not in the PS1 version.
Get a LIFE: Three tiles of each letter that spells that word are hidden on the board. You have up to six chances to spell L-I-F-E entirely by finding those tiles. Getting it in six clicks wins you $50,000, in five $75,000 and in four $100,000.
Safe Crackers: Twelve bills are hidden on the board. You have four chances to unveil the highest amount you can; you keep the last amount you reveal. You can quit when you want.
Skunk Money: Among the twelve bills hidden are two "skunk" bills, as well as a "double your winnings" bill. You must try to find as much money as you can without getting a skunk, in which case you'd lose all your winnings. You can quit when you want.
Trash Can: Crane Dump in reverse — the crane is locked in the middle of the field and you must move a trash can in the slots to try and collect as much of the six balls as you can. Each collected ball wins you $50,000. This game is not in the PS1 version.
Treasure Chest: Two bills of each denomination are hidden on the board. You uncover each bill one by one. The game ends when you get a pair (whose denomination is the prize you win) or when you have revealed six bills without getting a pair, in which case you get nothing.
Up or Down: In addition to one of each denomination, a color-inverted negative equivalent of each are also hidden on the board. Unveiling the positive bills adds to your winnings while finding the negative bills reduces them. You can quit when you want.

Stock Sound Effects: On several of "Life's Little Games", the "B.O. foghorn" plays when you lose.
Whammy: Finding a Skunk in the mini-game "Skunk Money".
---