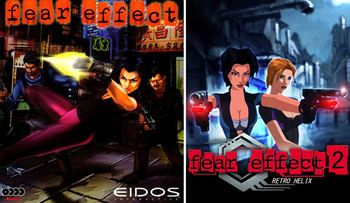 Fear Effect is an action/adventure/horror game published by Eidos Interactive. Released midway through the original PlayStation's life cycle, the game is the tale of three merciless mercenaries — Hana, Glas, and Deke. The daughter of a rich and powerful businessman has run away, and the trio have learned of this via an inside source and plot to find her. Although, the three of them plan to ransom her back to her father if all goes well. However, everything is not what it seems to be, and the girl in question is the key to an epic ordeal — possibly involving the fate of the world itself.
The game spawned a prequel, Fear Effect 2: Retro Helix, which shows how the three main characters met, and introduces Rain, Hana's love interest. Their mission in this game is to stop an epidemic of a highly dangerous disease.
The gameplay features typical action/adventure elements, run and gunning enemies, stealth sequences, keycard-fetching and puzzle solving, but the setting fuses influences as diverse as cyberpunk and Chinese mythology. What is somewhat unique is each character you control has a "fear/confidence meter". By solving puzzles and taking out foes quickly, your character's meter stays green. When you screw up or take damage, the meter goes down. When it's red, your character has all the defense of wet paper.
A third game titled Fear Effect: Inferno was planned to be released for the PlayStation 2. However, it was ultimately cancelled.
A French indie developer Sushee (with the blessing of the IP holder Square Enix) launched a Kickstarter campaign
in 2016 for a new game titled Fear Effect Sedna and released it on March 6, 2018. Sedna takes place four years after the events of the first game. Due to the interest this game drew, a remake of the first game, titled Fear Effect Reinvented, is in development.
---
This series provides examples of:
---