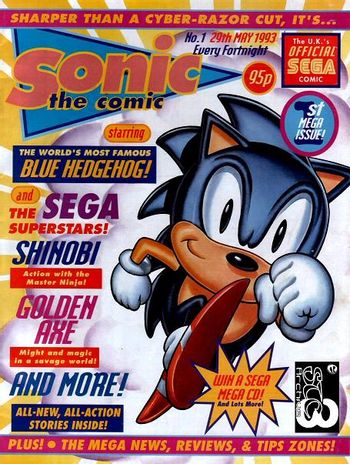 Sharper than a Cyber-Razor Cut, it's Sonic the Comic!
—The tagline for the very first issue.
A British comic by Fleetway which originally ran in the nineties, but has since seen an online revival. Although Sonic the Hedgehog is in the title, it began as a sort of Sega equivalent to Nintendo Power (although not to be confused with the Official Sega Magazine which ran at the same time), showcasing strips about upcoming Sega games along with reviews, cheat codes, walkthroughs, and the like. As time went on, various factors (including a hedgehog version of Wolverine Publicity) caused most of those to be phased-out in favor of more Sonic stories.
Along with Sonic, other games to spawn their own strips included:
Decap Attack: Longest-running of all the non-Sonic strips, re-imagined as a loopy piece of surreal humour and puns which somehow managed to make the Sega game, itself wacky, look staid by comparison.
Streets of Rage: Typical '90s Dark Age adaptation of the fighting game, with the memetic lines "Ninjas are wimps, man!" and "AND I WANT A HELICOPTER!"
Ecco the Dolphin: Fairly straight adaptation of the original game.
Shining Force: For some reason, the bog standard fantasy setting of the game was changed into a post-World War 3 hellscape; in the vein of Shadowrun, the resulting mutations birthed fantasy races of centaurs, elves and so forth.
Wonder Boy in Monster World: Sequels called Wonder Boy in Demon World and Wonder Boy in Ghost World.
Mutant League: No relation to the American animated series beyond both adaptating the same Genesis sports games by Electronic Arts.
Marco's Magic Football
Eternal Champions: Popular enough to get its own summer special.
Rocket Knight Adventures: An original storyline set after the games, with Sparkster returning to find his people brainwashed by a new set of invaders.
The UK's Sonic adaptation was distinct from all others, chiefly because it strove to accurately translate the world of the games into serial form. This included the Zones, rings, Star Posts, Badniks, animal friends and more. Those elements sometimes appear in other adaptations, such as the Archie Sonic series (which had a murky sense of how Rings and Zones actually worked or where they existed in relation to the 'verse), but not to the same degree. A few inconsistencies can be blamed on Sega's typically-poor communication with their media outlets in the west: for instance, Nack the Weasel (a.k.a. Fang the Sniper) was introduced in Sonic the Comic as a member of the Chaotix, despite him debuting in Sonic Triple Trouble and having nothing to do with that team. (Admittedly, Knuckles does feature in both games.)
The book really took off following a Time Skip in which Sonic was hurled into a Bad Future. The next ninety-odd issues consisted of Sonic organizing the Freedom Fighters and toppling Robotnik in the 100th issue.
Like Archie, the book had its own stable of Canon Foreigners: Captain Plunder the Sky Pirate, Grimer (The Igor to Robotnik's Frankenstein), Doctor Zachary, Metallix, Shortfuse the Cybernik, and Tekno the Canary. Metallix was an effort to add more distinctiveness to the video game villain Metal Sonic: Metallix was the "Emperor" of a legion of Metal Sonics who broke free of their creator. This led to a deliberate Shout-Out when those robots went around shouting "Exterminate!" The comic also has its own take on Super Sonic, which asks a simple yet horrifying question: what would happen if Super Sonic was a murderous psycho?
Fleetway did acknowledge their Archie counterpart and its inspiration Sonic the Hedgehog (SatAM) in magazine features, but they did not incorporate any of that into the UK Sonic's canon. (Alhough Sonic the Comic may have influenced Archie near the end: Both books featured Knuckles fighting an albino member of his species, and an Enemy Without plot involving Super Sonic going on a rampage.) Similarly, the book was not linked to the earlier UK Sonic novels that had, for example, SatAM's Sally Acorn as a character; however, the novels did appear to influence the comic. Both had time-travel plots that involved Sonic being forced to instigate the accident which created Robotnik, as the alternative was even worse; being conquered by Metallix in the comics, and the whole universe being infected by Chaos in the novels.
After the print magazine's demise, the comic (as well as some of the articles) was continued by fans under the name Sonic the Comic Online.
The Trope Page for the online continuation of Sonic the Comic can be found here. For a time, the original comic had its own site with issues uploaded weekly, but it no longer exists.
There is a series of retrospectives
covering Sonic the Comic that are posted on YouTube, as well as reviews of current STCO issues. The first of these retrospectives can be found here.
There is also an issue-by-issue retrospective podcast which can be found here.
StC also has its own Wiki which is found here.
It has absolutely nothing to do with SoniComi.
---
Sonic the Comic contains examples of:
Aborted Arc: Johnny was supposed to gain a crush on Amy, but writer Nigel Kitching felt that it would end up taking up too much of the already-limited page space to develop. Similarly, the conclusion of the Agent X arc was meant to reveal that Johnny genuinely had gone over to Robotnik's side after growing weary of years of fighting him. Lew Stringer, who wrote most of these stories, eventually decided against it; Johnny was Nigel's character and Lew felt it wouldn't be fair to turn him evil. Anyway, he eventually judged that Johnny was "too nice a guy" to do that.
Acid-Trip Dimension: The Special Zone. Referenced when a character claimed the part where most of the action took place was the weird part. There are, however, parts of the Special Zone which are "normal". It's a Cloud Cuckoo Land to Sonic, but it's pretty average in comparison to the swirling mass of colours that make up the rest of the dimension.
Adaptation Distillation:

Sonic Adventure's storyline was radically changed to fit into the comic's continuity. Despite being rushed, the end result was a fitting end to the original run.
The Sonic 3D Blast adaptation became one with the introduction of The Drakon Empire near the end.

Adaptation Dye-Job:

Eye variation: Once the Sonic Adventure adaptation came around, the only character with their game eye color was Sonic (and, in his case, it was due to a side effect of prolonged exposure to Chaos, so it's not his natural color). Amy and Tails both had brown eyes instead of green and blue. Knuckles has blue eyes instead of purple.
For whatever reason, Knuckles has a metal ring around his neck instead of his trademark fur marking. In his first appearance he didn't have the metal ring.

Adaptational Jerkass:

Sonic is a heroic, laidback character in the games, and at the time of the comics was written in western canon as being a Totally Radical Mascot with Attitude, but in here, he's a bullying, immature Jerkass, especially with the way he treated Tails. Despite caring for his friends, he really has a hard time showing it.
Overall the whole comic is noticeably meaner and more cynical in its take on the Sonic universe. The Chaotix similarly are hit with far more snide and mean tempered characterisations. This especially sticks out for Mighty, who compared to his good natured games counterpart is essentially a lite version of Sonic here. Espio and Vector's Vitriolic Best Buds relationship with Charmy is also mostly diluted to just the vitriolic part.

Adaptational Villainy: Chaos, Robotnik and Super Sonic all fit in here. Chaos is an evil Drakon villain with no sympathetic past in this comic, while in the games he witnessed the massacre of Ridiculously Cute Critters. In the comics, he tormented the Ridiculously Cute Critter he was trapped with, while in the games she was his friend. Super Sonic is an Ax-Crazy split-personality who, initially, only exists to mindlessly destroy but later becomes a cold blooded sociopath that likes to play with his food. As for Robotnik, he's a ruthless tyrant, possibly worse than the SatAM version.
A Day in the Limelight: Robotnik had his own one-shot comic strip a few times. Megadroid too.
A God Am I: Dr. Robotnik in the Robotnik Reigns Supreme arc.

And again in the Game Over arc, but under different circumstances.

A.I. Is a Crapshoot:

The Brotherhood of Metallix, Commander Brutus.
An interesting variation in Citizen One, a computer program capable of creating Zones. Even though Robotnik made it, he abandoned it because it only wanted to make happy Zones.

Aliens Speaking English: The characters aren't from Earth but can communicate with English speaking humans.
Ambiguously Human: Grimer, Captain Plunder, the inhabitants of the Special Zone... Word of God is Grimer is probably a reptile but what type is never specified.
And I Must Scream: Shortfuse being trapped in his Cybernik armour for the rest of his life is one thing, but the strip Out Of Work Hero from Issue #106 reveals that when the electromagnetic pulse hit Mobius in Issue #100 his suit's power cut out mid-flight over a lake of lava, causing him to fall in. His invincible armour and reserve life support systems kept him alive until the power supply returned and he crawled back to the surface, but the dialogue reveals that he was trapped under the lava for months.
Anticlimax:

The Brotherhood of Metallix are defeated with the press of a button. Gets a Lampshade Hanging from Sonic.
The ending to the series.

Super Sonic goes berserk, and two or three pages later he's transfused in Sonic and the series ends with a group shot.

Sonic's battle with Root. Sonic spends the whole issue fighting

his mind-controlled minions, including the Chaotix

and reaches Root, who prepares to fight him.

Then Sonic kicks a pillar onto him.

Anthropomorphic Shift: Most noticeable in the case of Johnny Lightfoot and Porker Lewis, but in general all the animal people of Mobius start wearing more clothes and looking more human-like suddenly over the course of a few issues.
Applied Phlebotinum: Many, but primarily the Chaos Emeralds.
Arc Villain: Nutzan Bolt, Trogg , The Brotherhood of Metallix, Commander Brutus and others.
Art Evolution: Originally the comic had many artists of varying skill levels, however around the middle it started coming more into place. The series looks dramatically cleaner and different just before Adventure, in comparison to the beginning. Eye colours tend to be inconstant at that, often switching between their game colours and Fleetway colours depending on the artist.

Richard Elson's Sonic quickly evolves from having a design similar to the Western 'mohawk' design to one matching his appearances in Sonic 3 & Knuckles and Sonic 3D Blast.

Ascended Extras: Johnny Lightfoot and Porker Lewis originated as being among the names of the small furry animals Sonic breaks out of the Badniks in the games.
Ascended Fanboy: Amy starts off as a fanatical fangirl of Sonic before being forced to join the Freedom Fighters for her own safety. This led to a series of events which saw her toughen up, gain a much more subtle respect for (and love of teasing) her hero and eventually become the leader of the Freedom Fighters in Sonic's absence.
As You Know:

Shortfuse tends to mention his backstory in each appearance he makes. Always goes something like, "Remember me, Robotnik? The badnik you created who turned on you?" It's become a bit of a Running Gag with the fans of the comic.
If Grimer appears unaccompanied, someone will manage to mention he's Robotnik's "creepy assistant".

Back for the Finale: Ebony and Super Sonic reappear in the last two stories.
Badass Santa:

An interesting case, in that STC's Father Christmas' badassery comes from his ultimate pacifism. He will not, and implicitly cannot fight, nor does he involve himself in the fighting. He's one of Mobius very few 'true' magic users, as it were, and cannot be touched except in good will. Attacks pass clean through him, and Robotnik's automated defences and robots quietly stop working while he's around.
Sonic did once assume he was Robotnik and flung him through the air by his beard. It didn't slow him down at bit, not to mention giving him the chance to burst dramaticly from the snow.

Batman Gambit:

In early story Hill Top Terror, Tails uses Super Sonic's ego to get him to stop the volcano, Tails taunts Super Sonic saying he can't stop the volcano which makes Super Sonic decide to stop the volcano by wrapping it in a speed cocoon so he can prove that he can.
Robotnik Reigns Supreme! sees Robotnik gain godlike power from the Chaos Emeralds, allowing him to manipulate reality to the extent that he traps Sonic in a reality where Sonic never existed and Robotnik has ruled Mobius for years with most of Sonic's friends dead (Tails), terrified refugees (Amy and Johnny) or Robotnik's loyal servants (Porker and Knuckles). Despite such moments as Robotnik recreating several of Sonic's old villains for him to fight at once, or taking away Sonic's powers, Sonic managed to trick Robotnik into providing him with the tools he needed to stop his foe (his speed and Knuckles with his memory of the true timeline restored) by playing on Robotnik's ego, suggesting that he was only doing these things because he was scared Sonic would win if he had his powers.

Be Careful What You Wish For: Johnny wanted his own solo adventure, he gets what he wanted when Brutus attacks the Cotton Factory Zone.
Big Bad: Doctor Robotnik is the Big Bad for Mobius for the first 100 issues, following this he is first Demoted To Emperor Ko-Dorr's Dragon which leads to Emperor Ko-Dorr being the Big Bad, after this he is then Demoted To Princess Kupacious' Dragon which leads to Princess Kupacious being the Big Bad, however in the Sonic Adventure arc Chaos becomes the Big Bad, Trogg is the Big Bad in the Nameless Zone arc.
Big Bad Ensemble: First Robotnik and Emperor Metallix fight for role of the role of Big Bad then Robotnik and Brutus, after that Robotnik and Super Sonic.
Bitch in Sheep's Clothing: The kind rooster landlord that gave Knuckles his pub's best room and offering him a pint of his best beer is really Robotnik in a disguise.
Brainwashed : Tails in the very first issue he appears in (he quickly turns back, though).
The Cameo: Berk, Boni and Drutt from The Trap Door make a brief cameo in Decap Attack strip.
Canon Foreigner: Most of the cast if you take a strict definition of the Japanese continuity. Also several original zones were created as locations, such as the Nameless Zone, Grim Zone, Pleasant Zone and Stone Tower Zone.
Canon Immigrant: Possibly; and by somewhat circuitous proxy. Dr. Zachary, an evil white-furred echidna scientist, was an invention of Sonic the Comic, but the American "Archie" Sonic the Hedgehog (Archie Comics) comic later introduced an evil white-furred echidna scientist of its own, by the name of Doctor Finitevus. In late 2008, almost a decade after Sonic the Comic went into full rerun, the videogames finally incorporated Imperator Ix, another evil white-furred echidna scientist. The changing names make this a kind of in-franchise Expy.
Captain Obvious: Tails' Captain Obvious statements did not go unnoticed by Sonic the Hedgehog:

Tails: Wow! The Death Egg!

Sonic:

Tails, what is it with you and stating the blatantly obvious?

And later on in the same strip:

Tails: Sonic! You're alive!

Sonic: And you're still stating the obvious, I see.

Tails: They... they're joining together!

Sonic:

Tails, you always were an expert at stating the

flipping

obvious!

In one of the Summer Specials:

Tails: Sonic! He's attacking us!

Sonic: Thanks Tails, I had noticed.

Card-Carrying Villain: Dr. Zachary ("Knuckles never expected that I could be evil!").
Chained To A Rollercoaster: The Marxio brothers chain Sonic and Porker to a rollercoaster.
Characterization Marches On: Doctor Robotnik quickly moves from a bumbling mad scientist who makes corny egg puns and has shades of being a Dirty Coward to an intimidating Magnificent Bastard and a force to be reckoned with, ruling over the planet with an iron fist.
Clingy Costume: Shortfuse.
Cloud Cuckooland: The Special Zone.
Cloudcuckoolander:

Even in an universe full of them, Charmy Bee really stands out (his persona to amusingly similar to how the games later wrote him).
Simpson The Cat is a bigger example due to being similar to a Tex Avery character.

Colony Drop:

Done by Knuckles, who punches a fault line near the Carnival Night Zone. Since the Carnival Night Zone was built on the edge of the Floating Island, Knuckles completely smashed off that portion of the Floating Island, removing the Carnival Night Zone from the island and sending it falling to Mobius, slightly cushioned by some remaining power of the Master Emerald. The crash-landing of the ruined Carnival Night Zone was a shock to one Emerald Hill boy who had just before wished that the Carnival Night Zone was closer then it crashes in front of him.
In the Sonic Adventure arc, in order to stop Chaos from absorbing the Chaos Emeralds, Knuckles hesitantly ejects them from the island, which without any power then crashes down into the sea.
In the story Return of the Nightmare it has Super Sonic heads into space, where he decides to pull Mobius' moon out of orbit. The moon smashes into the planet thankfully in was only in Super Sonic's dream which was cause by Ebony's Globe of Enrokk spell which when successfully cast, a sphere of light surrounds the target's head and inside the globe, the target sees whatever they want to see, thus subduing them for a while and preventing Super Sonic from causing real damage.

Comic-Book Time: The series is explicitly in the '90s. Several issues mention the years in-series being the same as the year the issue was written in. So we have one issue is set on New Year 1997, and a few issues later we have an issue set in 1998... But no one seems to age throughout the comic. Amy does get a bit less-childish in terms of looks though.
Covers Always Lie: Some covers prominently featured conflicts that were resolved within a couple of pages in the comic itself (examples: Sonic's long-lost brother Tonic

it was Metamorphia again

and Knuckles vs. Shortfuse

the fight lasts for two blows before the misunderstanding is cleared up

).
Darker and Edgier: During the Sonic Adventure adaptation, and Robotnik's A God Am I story arc. The comic itself was this to the games; matching or even surpassing Sonic the Hedgehog (SatAM) at its darkest. Much like SatAM, a lot of the comic is set in a dystopian world ruled by Robotnik, with many of it's citizens being forcibly turned into robots to do his bidding. Unlike SatAM, this version of Robotnik is explicitly shown to also have citizens outright executed for incredibly petty reasons. To quote one poor civilian on the subject of his rule; "everything is punishable by death these days." The series also shows the psychological toll the adventures take on our heroes; Porker Lewis permanently retires and shows PTSD symptoms after a long period captured by the Metalix for the rest of the comic's life, and after losing one of his closest friends, Sonic himself starts suffering from grief-stricken hallucinations and night terrors. Explicitly shown during the Robotnik Reigns Supreme arc, as Robotnik is demonstrating how his altered-timeline Mobius fears and worships him.

Robotnik: "Ah, the celebrations are beginning! Today is Robotnik Day, you see!"

Sonic: "Celebrations... they don't look very happy to me!"

Robotnik: "Of course they're not happy! Where's the fun in being a dictator if people are happy about it?"

Deconstruction: Everything you know about the franchise is turned on its head here. Sonic's flaws are played up a lot more and they end up biting him in the ass as he becomes a social pariah because of them. Robotnik is legitimately insane as his normal quirks are not played for laughs. Its one of the bleakest settings for the franchise to date.
Demoted to Extra: All of the Animal Friends besides Porker Lewis and Johnny.
Depending on the Artist:

Whether or not Johnny and Porker wear shoes and/or gloves (once they have clothes).
Shortfuse the Cybernik's proportions will differ from story to story, with some artists depicting him as being as tall as Robotnik and heavily built, with others depicting him with the same proportions as Sonic or Knuckles (large head, small body with thin limbs) and short enough that the humanoid Commander Brutus has to double over to be eye level to him.
Tails is normally brown eyed but the cover for Issue #200 has him with blue eyes.
Early issues have Robotnik swapping between his Western games design and an original design by Richard Elson that combines it with his Adventures design, before fully swapping to the Adventures design.

Depending on the Writer: As the comic found its footing, the main plots became increasingly more serious and action packed. The side stories however, usually retained their light hearted weirdness from earlier issues. This is especially evident with Robotnik, who would shift from a sinister competent dictactor to a petty arrogant bungler depending on the story.

Tails would sometimes switch from a well-meaning but bumbling sidekick to The Load who would do nothing but wish Sonic was there to save the day with no agency of his own, the latter appearing in some of his eariler solo stories.
---