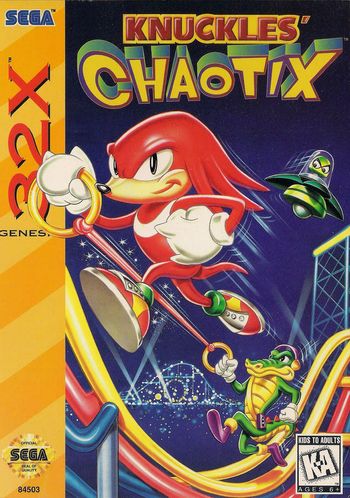 Knuckles' Chaotix (called just Chaotix in Japanese and the title screen) is a Gaiden Game in the Sonic the Hedgehog franchise released for the Sega 32X in 1995. It's the only Sonic game to appear on that system. Though mostly forgotten, the soundtrack has endured even amongst non-fans of the series, most notably the "Door Into Summer"
track. If you're a connoisseur of retro game OSTs, you've probably been linked to that theme at least once. Sonic Generations uses a rearrangement of the song for one of its menus.
There are two completely different storylines depending on the instruction manual.
In English: Knuckles is enlisted as a bouncer at Carnival Island, a high-tech amusement park and resort. Dr. Robotnik has designs on the island's Emerald Pillar, which houses the Power Emerald which supplies the island's power. Robotnik has trapped four of Knuckles' friends in the Combi Confiner, so it's up to Knuckles to rescue them (using the real ring power of teamwork!) and kick out Robotnik before the grand opening.
In Japanese: Dr. Eggman discovers a mysterious island containing artifacts known as Chaos Rings, regular rings infused with Chaos Emerald energy. He's built his base, dubbed the Newtrogic High Zone, on the island. Mighty the Armadillonote An otherwise-obscure character from a Japanese-only arcade game called SegaSonic the Hedgehog, Espio the Chameleon, Charmy Bee, and Vector the Crocodile all arrive at around the same time for their own reasons, but are captured by Eggman and placed in his "Combi Catcher" machine to prevent them from meddling in his plans. Knuckles, curious about the island, ventures there to find out more about the Chaos Rings and their connection to the Floating Island.
The player controls two characters who are joined together by an elastic ring, with the 'cord' shown as a trail of sparkles. Before each stage, you use the Combi Catcher to randomly select your partner, then select a stage (also at random; how fast the stage select indicator moves depends on what day cycle you're currently on). Knuckles and co. plod through the game in the usual Sonic fashion: Beat Eggman's robots and reach the end of the stage. Cooperation is required to make it through the game, as you have to make use of the properties of the rings you and your partner hold in order to zoom and slingshot your way around obstacles. Eggman is fought numerous times in the game, and his Sonic CD henchman Metal Sonic (known as Metal Sonic Kai in the Japanese manual) shows up in the finale to put an end to your heroic career.
---
Tropes used in Knuckles' Chaotix:
---