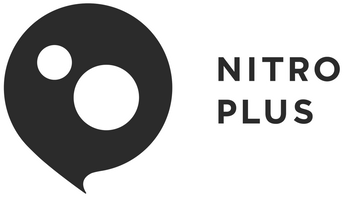 Nitroplus Co., Ltd. (Nitro Plus before the 2008 rebranding), stylized as nitro+, is a Japanese game company specializing in Eroge and Visual Novels. Their works are almost invariably dark in tone, with an abundance of Eldritch Abominations, horror, rape, gore and violence.
Their first release was 2000's Phantom of Inferno, also was main writer Gen Urobuchi's first work with the company. Subsequent games such as 2003's Saya no Uta and 2008's Chaos;Head garnered enough acclaim for the studio's popularity to reach levels comparable to that of Key/Visual Arts, Type-Moon and 07th Expansion.
One of Nitro's most prolific creators is Gen Urobuchi, who has gone on to write Fate/Zero, Puella Magi Madoka Magica, and Psycho-Pass independent of the company. Vocalist Kanako Itou is another frequent collaborator, having performed the musical themes for many of their VNs and anime adaptations. On a sad note, their music producer Shingo Minamino was murdered tragically and brutally in the middle of a busy street.
They have their own record label, GEORIDE
, which represents a repertoire of music artists that often performs vocal themes on their titles.
For some reason, the company responsible for so many dark and disturbing stories has a mascot in the pink-haired, baby-faced, be-headphoned Moe character Super Sonico. And for the branch that focused on producing Boys' Love Visual Novel called Nitro+CHiRAL have a mascot with long white-haired, always seen with his trusty bass, be-headphoned Bishōnen character called Naitou-kun
◊.
In 2021, nitro+ announced that they are putting their R18 works (including Nitro+CHiRAL works) under a separate banner called Nitro Origin (formerly Nitro R18), while All-Ages stuff stays in the main brand, now renamed back into Nitro Plus.
---
Releases of Nitro+ (in chronological order):
<!—index—>
Phantom of Inferno (2000)

Phantom INTEGRATION (2004)
Phantom -Phantom of Inferno- (2012) - All-ages remake of the original game for the <!—/index—>Xbox 360<!—index—>, with updated art and voice actors from the anime adaptation. A PC port was released in 2013.

Vampirdzhija Vjedogonia (2001)
Kikokugai: The Cyber Slayer (2002)
"Hello, World." (2002)
Demonbane (2003)
Saya no Uta (2003) - one of Urobuchi's most famous— or infamous— works
Angelos Armas (2005)
Jingai Makyou (2005)
Hanachirasu (2005)
Sabbat Nabe - Nitro+ Amusement Disc (2006), a compilation disc which includes Dra+Koi, Nitrowars, and Kaigen Seito (a Role-Playing Game spin-off of Hanachirasu)
Gekkou no Carnevale - Carnevale de la Luce de la Luna (2007)
Zoku Satsuriku no Django (2007) - also known as Tre Donne Crudeli
Nitro+Royale - Heroines Duel (Comiket 2007) - a fighting game
Chaos;Head (2008) - First entry of the Science Adventure Series, their collaboration with 5pb.
Sumaga -STAR MINE GIRL- (2008)

Sumaga Special (2010) - a Sumaga fandisc

Full Metal Daemon Muramasa (2009)

Full Metal Daemon Muramasa Stories of Evil Thoughts (2010) - a fandisc
Project Vermillion (TBA) - a sequel to the main title.

Steins;Gate (2010) - Second entry of the Science Adventure Series, their collaboration with 5pb.
Axanael (2010)
Soni Comi - Communication with Sonico (2011)

Motto! SoniComi - More Communication with Sonico (2013) - PS3 port of SoniComi, featuring reworked graphics and more content.

Guilty Crown Lost Christmas (2012) - Prequel to Guilty Crown
Phenomeno - Chapter 1 (2012) - Adaptation of the novel of the same name
You and Me and Her or Totono (2013) - A romance game.
Tokyo Necro (2016) (official tumblr account)

Tokyo Necro Suicide Mission (2018-2022) - Licensed online game, developed and hosted by DMM. Service ended as of June 30th, 2022.

Minikui Mojika No Ko (2018) - Features artwork by Hamashima Shigeo.
Smile of Ars Notoria (2020) - An iOS and Android game made as part of the company's 20th-anniversary commemoration project.
<!—/index—>
---
Nitroplus also has a branch focused on producing Boys' Love Visual Novels: Nitro+ CHiRAL. Its works are listed below:
<!—index—>
Togainu no Chi (2005)

Togainu no Chi: True Blood (2008) - A PS2 port of Togainu no Chi with updated art and toned down sexual content along with new characters. A PSP port was released in 2010.

Lamento - beyond the void (2006)

Love Love Lamento Gakuen (2009) - A drama CD featuring the characters in a high school setting.
convenience store LAMENTO (2012) - A drama CD featuring the main cast as employees in a said convenience store, the devils as customers, along with guest appearances of Togainu no Chi characters.

Chiral Mori - Chiral Amusement Disc (2008)
sweet pool (2008)
CHiRAL CAFÉ (2010) - A crossover drama CD between Togainu no Chi, Lamento - beyond the void, and sweet pool characters where they work at a cafe.

CHiRAL CAFÉ 2 (2016) - A sequel to CHiRAL CAFÉ, but with the addition of the cast from DRAMAtical Murder.

False Alkanet (2010) - A Mobile Visual Novel
World's end Nightmare (2010) - A Mobile Visual Novel that has 30 episodes.
DRAMAtical Murder (2012)

DRAMAtical Murder re:connect (2013) - A DRAMAtical Murder fandisc.
DRAMAtical Murder re:code (2014) - A Bleached Underpants PS Vita port of DRAMAtical Murder with a new route.

Osu-Boys!! ~Ikemen Ryoujoku ☆ Paradise~ (2014) - A comedic crossover visual novel featuring the protagonists of the studio's games. Released in April Fools' Day.
THE CHiRAL NIGHT rhythm carnival (2017) - A Rhythm Game based on the 10th anniversary THE CHiRAL NIGHT concert. Released in Comiket 92 in August 2017. This game can be bought at their online store.
Slow Damage (2021)

Slow Damage: Clean Dishes (2021) - A spin-off online game featuring a new pair of protagonists and some of the side characters of Slow Damage.
<!—/index—>
---
In addition, people from the company have worked on, or are credited in, other works:
<!—index—>
Attack on Titan (their internal staff worked on the Blu-Ray visual novels. Additionally Nitro+ writer Gun Snark wrote the No Regrets spin-off manga)
Aldnoah.Zero (TV series reuniting Urobuchi with Fate/zero director Ei Aoki, and co-produced between Nitro+, A-1 Pictures and TROYCAnote )
Azur Lane (TV adaptation, with Jin Haganeya handling series composition)
Black Lagoon: Shaitane Badi (Light Novel, with Urobuchi as author)
Blassreiter (TV series, with Urobuchi as scriptwriter for several episodes)
Buddy Daddies (Anime First project with P. A. Works, written by Shimokura Vio)
Fate/Zero (Prequel of Fate/stay night; a series of four Light Novels produced in collaboration with Type Moon, with Gen Urobuchi as author)
Coffin Princess Chaika (NamanikuATK designed the characters and did the novel's illustrations)
Fuuun Ishin Dai Shogun (Makoto Ishiwata designed some of the mecha)
Gargantia on the Verdurous Planet (another Anime First by Production I.G. this time, with thus-far the first episode script and series composition done by Urobuchi, and the second episode script by fellow Nitro+ writer Gun Snark; a second season is in the works)
Guilty Crown (has a PC game Spinoff written by Jin Haganeya, who is also part of the show's writing team)
Kamen Rider Gaim (Toku series produced by Toei Company since October 2013, with Urobuchi as head writer and nitro+ís Niθ designing some of the People in Rubber Suits monsters; Jin Haganeya, Gun Snark, and Norimitsu Kaihō serve as secondary writers helping co-write some episodes.)
HaruChika: Haruta & Chika (NamanikuATK provided the character design for the 2016 Anime adaptation by P. A. Works)
Muv-Luv Extra and Muv-Luv Alternative (Niθ, for some of the mecha designs)
Neppu Kairiku Bushi Road (TV special between Nitro+, Bushiroad, Bandai Visual and Kinema Citrus aired on December 31st, 2013)
Nitroplus Blasterz Heroines Infinite Duel (A fighting game made in collaboration with Examu featuring the various heroines from their work as well as Saber as a Guest Fighter. Released in Japanese arcades on 30 April 2015. A console port on the PS3 and PS4 with cross-gen multiplayer support in Japan by MarvelousAQL and North America by XSEED Games was released in winter 2015, exclusively featuring Homura from Marvelous/XSEED's Senran Kagura and Heart Aino from Examu's Arcana Heart as more true-to-the-definition Guest Fighters relative to Sabernote )
Phantom ~Requiem for the Phantom~ (based on the story from the visual novel Phantom of Inferno. Also had a few episodes penned by Gen Urobuchi)
Psycho-Pass (TV Series by Production I.G airing in Fall 2012, with Urobuchi as lead scriptwriter; a movie and two subsequent seasons have been released)
Puella Magi Madoka Magica (Anime First series by Studio Shaft airing in Winter 2011, with Urobuchi as scriptwriter, a Light Novel adaptation, a PlayStation Portable game released in 2012, and three theatrical films)
RWBY: Ice Queendom (Anime series of RWBY by Studio Shaft with Urobuchi as main planner)
Queen's Gate novels (a trilogy of side-stories from the Queen's Blade universe that take place in our modern world, rather than the QB's fantasy medieval one. Niθ designed the characters from those novels)
Rakuen Tsuihou -Expelled From Paradise- (Anime film co-produced by Nitro+ and Toei Animation with a screenplay by Urobuchi)
School-Live! (the manga is written by one of Nitroplus's staff members, Norimitsu Kaihō. In addition the script of the anime is written by them)
SoniPro -Super Sonico in Production- (Collaboration with Imageepoch, an Idol simulation game featuring Super Sonico)
Tokyo Twenty-Fourth Ward (Anime First project with CloverWorks, written by Shimokura Vio)
Touken Ranbu (a free-to-play browser game about personifications of famous Japanese swords as good-looking young men, made in collaboration with Kadokawa Games)
Thunderbolt Fantasy (a puppet show collaboration with Pili International Multimedia and Good Smile Company, written by Gen Urobuchi. Niθ is credited with character designs)
<!—/index—>
---
Tropes Associated with Nitro Plus' Works:
---