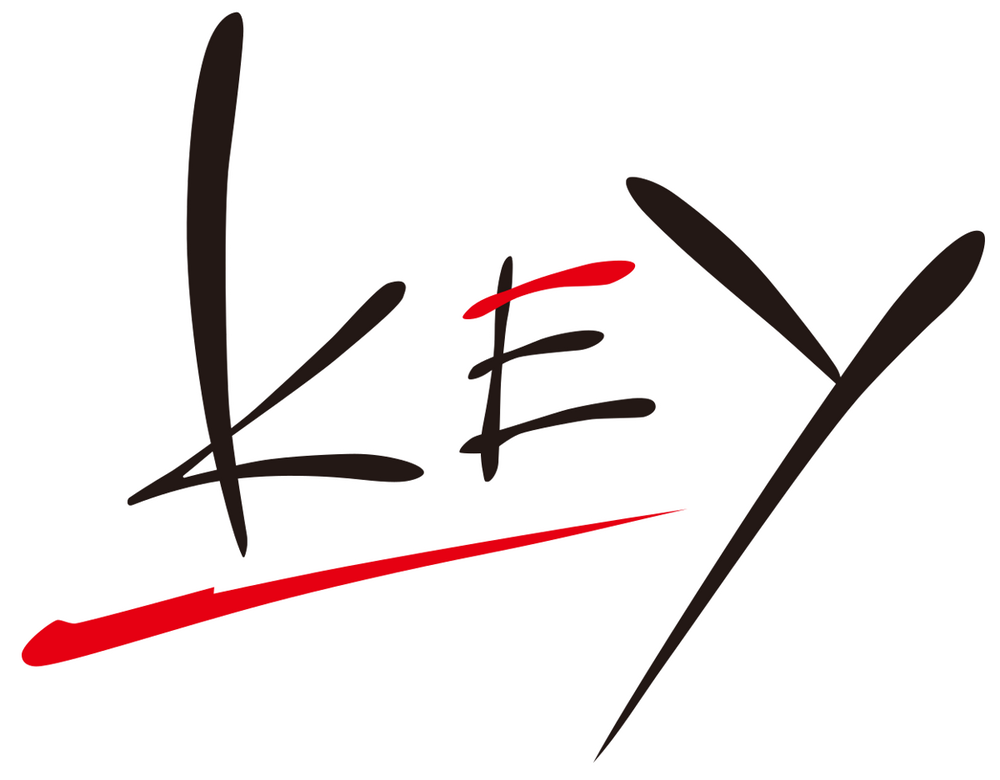 Key is a Visual Novel developer which is an subsidary of the publisher Visual Arts, usually in the Romance genre, whose works became very popular in the late 90s-2000s. They are especially well-known for creating heartbreaking stories that appear perfectly normal at first but always contain some thread of the supernatural from the beginning, which becomes more obvious as time goes on.
The company began after a lot of workers broke off from Tactics after the creation of the game One: Kagayaku Kisetsu e, which has been adapted into a 3-episode hentai OVA as well as a 4-episode all-ages OVA. They then created Kanon, which was incredibly hyped before its release and even today is considered one of the best romance games, as well as the game that made the plot-heavy eroge just as commercially viable as its Porn Without Plot counterparts. Most of Key's games are of the utsuge variety, with a lot of emphasis on melodrama and sad storylines.
Later games got more popular, more tragic, and more adventurous. planetarian: Reverie for a Little Planet and the last two segments of AIR venture into Kinetic Novel territory as well as… well, we won't spoil it. CLANNAD, Planetarian, Little Busters!, and Rewrite are entirely clean, though Little Busters got an Updated Re-release as "Little Busters: Ecstasy" that included H-content along with its other additions.
Most of its games have been adapted into animation. They seem to have had overlapping deals with Toei Animation and Kyoto Animation, as both studios have adapted the same works. In 2002, Toei made a 13-episode anime of Kanon; four years later, KyoAni made their (much better received) 26-episode series. Toei's theatrical version of Air – which cut out many of the characters and changed the dynamic to a more overtly romantic story, but was directed by anime legend Osamu Dezaki – came out in early 2005 while KyoAni's 12-Episode Anime was running on TV. In Fall 2007, Toei's CLANNAD movie – again directed by Dezaki, in what would turn out to be his final project – premiered less than three weeks before KyoAni's highly-praised TV seriesnote (directed by Tatsuya Ishihara, the same guy who directed Air and Kanon… and also Haruhi Suzumiya) hit television. In general, Toei's versions are compressed adaptations that aim to alter plot elements to focus on a single plot, while KyoAni cuts less out and is much more faithful to the games' stories. The KeyAni partnership seems to be over for now, as P. A. Works did the animation for Angel Beats! in 2010, and the Little Busters! adaption was made under the direction of J.C. Staff.
Key is also known for its seasonal imagery in the first three games, collectively the "Seasonverse" or "Season Trilogy," which share a universe and common themes. Kanon makes full use of Snow Means Love and may have defined the modern Sad Girl In Snow; AIR does the same for Summer, and CLANNAD for Spring, though snow appears and plays a darker role. They're not limited to seasonal settings, though; for instance, planetarian was set in a Dystopia where robots had taken over the world and one good Robot Girl without a purpose hid in a planetarium with a refugee, and Angel Beats!! is set in what appears to be a world where no one can die (affectionately dubbed as Purgatory).
Most of the anime adaptations of the Key Visual Arts works have their OP songs sung by J-Pop artist Lia (true in AIR, CLANNAD, Angel Beats!, and Charlotte).
Many of their anime titles and anime adaptations traditionally get English dubs at Houston with Sentai Filmworks and ADV Films (AIR, Kanon, CLANNAD, Angel Beats!, and Little Busters!). Charlotte and Planetarian are the only exceptions to this rule. For the former, it is because it's the first title that is dubbed by Bang Zoom! Entertainment, but that is mainly because it was licensed by Aniplex USA instead of Sentai Filmworks. note It should noted that Key/Visual Arts and Aniplex USA have close business ties together. For the latter, it is licensed and dubbed by Funimation. note Note that due to ADV/Sentai and FUNimation being both located in Texas, it was easy for David Matranga, who voiced Tomoya in Clannad, to voice the Junker. Furthermore, due to the mess that was the ADV-Sojitz deal, the AIR and Kanon licenses went to FUNimation.
Since they've made a strong impression and changed the genres they write for, Key is cited as a major influence on a lot of writers and studios. When They Cry and Megatokyo are both outright stated by their creators to be strongly inspired by Key's works, even if they go in completely different directions from Key's Signature Style.
One key name (mind the pun) in Key's history is Jun Maeda, co-founder of the studio, writer for most of the studio's works, as well as the composer and partial performer for most of the music for the games and their derivative works.
On July 2023, Takahiro Baba, the president of Visual Arts, announced his retirement and subsequent sale of his shares in the company to Tencent Games.
---
Key's works include:
<!—index—>
Kanon (1999): Adapted into two TV series, light novels, and a manga.
AIR (2000): Adapted into AIR and AIR in Summer, as well as a movie and a manga; the setting was used for the Kanon/AIR crossover manga, Kanon & AIR Sky.
CLANNAD (2004): Adapted into CLANNAD and CLANNAD ~after story~, as well as a movie, manga, and 2 Alternate Universe bonus episodes following Tomoyo and Kyou's routes.

Tomoyo after: It's a Wonderful Life (2005): Adapted into a manga called CLANNAD ~ Tomoyo After: Dear Shining Memories.

Little Busters! (2007): Adapted into manga and an anime.

Kud Wafter (2010): Like Tomoyo After, it's a spinoff sequel based on a minor heroine.

Angel Beats! (2010): An Anime First project, but it was later announced that there would be a Visual Novel adaptation of the anime split into six volumes. The first volume was released on June 26, 2015 as Angel Beats! -1st beat-. The others were not released.
Rewrite (2011): Adapted into a manga with an anime adaptation airing during Summer 2016.

Rewrite: Harvest Festa (2012): A Fan Disc set after the events of the first game. Similar to Tomoyo After, but each girl has a story instead of the game focusing on just one.

Charlotte (2015): An Anime First project.
Harmonia (2016): 15th anniversary project.
Summer Pockets (2018)

Summer Pockets Reflection Blue (2020): An Updated Re Release of the original games featuring a new heroine and new scenario.

The Day I Became a God (2020): An Anime First project.
Kaginado (2021): A Gag Series crossing over most of their previous works.
Loopers (2021)
LUNARiA -Virtualized Moonchild- (2021)
Heaven Burns Red (2022): An Eastern RPG co-developed with Wright Flyer Studios.
Prima Doll (2022): An anime based off from Key's multimedia project.
Stella Of The End (2022)
anemoi (TBA)
<!—/index—>
Tactics' works with the original team include:
Their favoured tropes include:
---