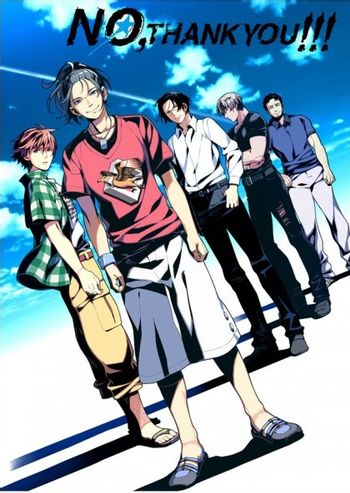 "It smells like chlorine. It reminds me of splashing around in the pool as a kid—"
— Haru's first lines in the game
No, Thank You!!! is an adult BL/Bara Visual Novel. It was first released in Japan on June 28, 2013 by parade, one of the child companies of ClockUp. On February 27, 2015, MangaGamer released an official English translation of the game.
The game features four main love interests, each with multiple endings, an insane total of 3000+ CGs (all drawn by the artist Hamashima Shigeo), and a "No, Thank You!!!" button which gives players a unique way to affect the game's story.
Our story begins when our protagonist jumps in front of a car to protect a man about to be run over, but gets hit and loses his memory while doing so. Kouichi, the man he saved, owns a jazz bar called sótano. He decides to set his savior up with a job at the bar and a place to live until he gets his memories back. Our protagonist is delighted at the setup, and depending on the route chosen will pursue one of the other employees at the bar. Due to his memory loss, he was unable to recall his own name, so the staff at sótano, Hiroyuki Akiyama, Ryu Kurosawa, and Maki, after much deliberation, give him the name "Haru."
Haru learns about the bar and its people in the first four chapters of the game. It turns out that sótano actually doubles as a detective agency behind the scenes, and with Kouichi at the helm they try to solve problems that the police are too afraid to touch, usually dealing with Yakuza. Haru must now attempt to work as an apprentice bartender, help with investigations, and of course, seduce one of the four main staff of sótano. But just who is Haru exactly?
As a side note, character tropes should go to the characters page.
Warning: The tropes below contain MAJOR spoilers for the game.
---
No, Thank You!!! provides examples of the following tropes:
---