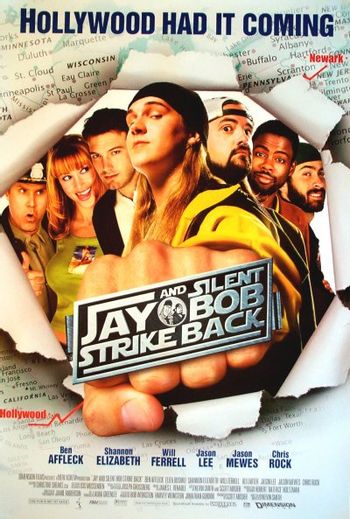 When Jay (Jason Mewes) and Silent Bob (Kevin Smith) are finally forced to stop hanging out in front the Quick-Stop by a restraining order, they discover that a movie based on the comic that's based on them, Bluntman and Chronic, is in production. While the duo is shocked to learn that they won't be getting any money from the film, they're more horrified that people on the Internet are badmouthing them and the franchise. So Jay and Silent Bob set out for Hollywood to find a way to stop the movie from getting made so people will stop talking trash about them on the Internet.
Along the way, they hook up with a group of women who are actually superthieves, but convince Jay and Silent Bob that they're animal activists; the four women convince the duo to break into an animal-testing clinic and free all the animals inside, and use that as a distraction to break into a diamond vault and rob it blind. From that point, Hilarity Ensues as Jay and Silent Bob run from the law with a stolen orangutan as they continue on their way to Hollywood.
A sequel, Jay and Silent Bob Reboot, came out in 2019.
---
This film contains examples of:
---