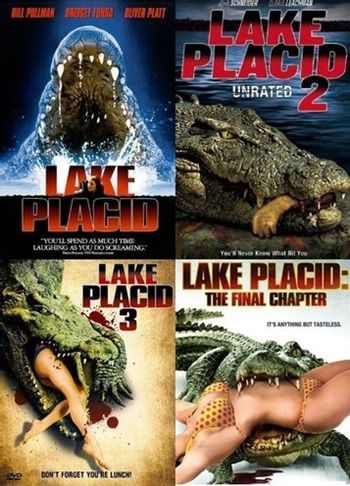 "I'm rooting for the crocodile. I hope he swallows your friends whole."
— Delores Bickerman
Lake Placid is a movie made in 1999 combining comedy and horror and starring Bill Pullman, Bridget Fonda, Brendan Gleeson, and Oliver Platt with a plot revolving around a giant crocodile owned by a seemingly ordinary old woman, Mrs. Delores Bickerman played by Betty White.
It spawned five Made for TV sequels, the fourth of which serves as a crossover with Anaconda. A fifth was released in 2018, but is In Name Only, ignoring all previous films apart from a quick mention of the original.
---
Contains the following tropes:
Wrestler of Beasts: In Lake Placid 2, Jack Struthers tells of how he was tracking a lion that was terrorizing a small village. He finally found it at night when he saw Ahmad trying to fight the lion with his bare hands after it had killed his mother. This story is actually the first clue that Ahmad is the better hunter between himself and Struthers as Ahmad would later reveal that it took Struthers four shots at point-black range — two of which went into Ahmad — before Struthers took it down.
You Look Like You've Seen a Ghost: When Hector comes face to face with the crocodile in the water.
---