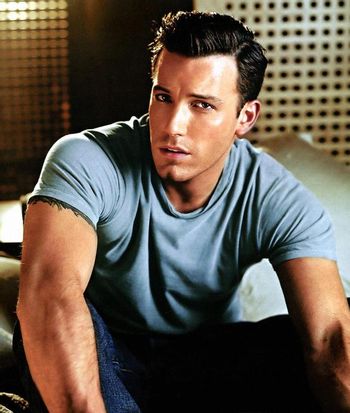 "When I look up at the screen and see myself I always have to laugh. Not because I think I'm doing a horrible job, quite the contrary, I just feel it's so surreal to feel like one person can entertain so many at one time."
Tell me, troper... do you bleed? You WILL!
Benjamin Géza Affleck-Boldt, better known as Ben Affleck (born August 15, 1972 in Berkeley, California) is an American actor, film director, screenwriter and producer.
He became known in the mid-1990s, after his involvement in his friend Kevin Smith's The View Askewniverse, first with the film Mallrats and later playing the lead role in Chasing Amy in 1997. Affleck became an Academy Award winner for his screenplay with BFF Matt Damon in Good Will Hunting in 1997. He has established himself as a Hollywood leading man, having starred in several big budget films, such as Armageddon (1998), Pearl Harbor (2001), Changing Lanes (2002), The Sum of All Fears (2002) and Daredevil (2003). In 2003 he starred in the bomb Gigli, which at the time killed his career as a big star.
He's since rebuilt his acting career from the ground up by focusing on less glamorous roles than his earlier career, earning back a lot of cred with an award-winning turn as the troubled George Reeves in Hollywoodland, and had a full-on Career Resurrection in 2007 with his directorial feature film debut Gone Baby Gone which was both a critical and commercial success and with the reviews of 2010's The Town has proved that he's a force to be reckoned with. In 2012, he made the fact-based thriller Argo which is said to be his best yet and won an Oscar for Best Picture.
On August 22, 2013, Affleck was cast as Batman in the DC Extended Universe, appearing for the first time in Batman v Superman: Dawn of Justice. He subsequently appeared in Suicide Squad and Justice League, then left the franchise to focus on personal issues, but agreed to return for The Flash, thus he will go down as the actor who has played the Caped Crusader the most in live-action films (although always in ensemble films), currently tied with Christian Bale with all three installments of The Dark Knight Trilogy.
Affleck is also known for his high-profile relationships, with Gwyneth Paltrow in 1998, with Jennifer Lopez in the early 2000s (that one attracted worldwide media attention in which Affleck and Lopez were dubbed as "Bennifer"), which made arguably one of the earliest public examples of the Portmanteau Couple Name being used by the mainstream media. Following the breakup with Lopez in 2004, he began dating Daredevil (2003) co-star Jennifer Garner. "Bennifer 2.0" was more successful, eventually leading to marriage and three kids — two daughters and a son before separating in 2015. Later, Affleck dated Ana de Armas, then went back to Lopez 17 years after their affair ended. In July 2022, Affleck and Lopez got married. Politics-wise, Affleck is an outspoken liberal.
Many fans have stated the fact that he looks
◊ a lot
like the young version of Robert Smith from The Cure.
He is the older brother of actor Casey Affleck.
Filmography as Actor on TV Tropes:
Filmography as Director:
<!—index—>
I Killed My Lesbian Wife, Hung Her on a Meat Hook, and Now I Have a Three-Picture Deal at Disney (1993, short film)
Gone Baby Gone (2007)
The Town (2010)
Argo (2012) - Academy Award winner for Best Picture
Live by Night (2016)
Air (2023)
The Big Goodbye (TBA)
<!—/index—>
---
Tropes in his works:
---