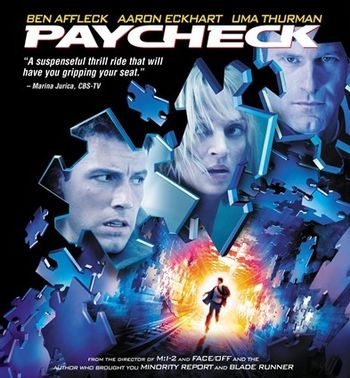 How much is a key to a bus locker worth? One day it's worth 25 cents, the next day thousands of dollars. In this story I got to thinking that there are times in our lives when having a dime to make a phone call spells the difference between life and death. Keys, small change, maybe a theater ticket — how about a parking receipt for a Jaguar? All I had to do was link this idea up with time travel to see how the small and useless, under the wise eyes of a time traveler, might signify a great deal more. He would know when that dime might save your life. And, back in the past again, he might prefer that dime to any amount of money, no matter how large.
Michael Jennings has a great job. He's a reverse engineer, paid large sums of money to figure out how rival technology works and improve on it. In exchange for his massive paychecks, he must have his recent memory wiped after each job to prevent any information leaks. Since those memories are of him doing long arduous work that he does not mind losing, he is left with "highlights" of time spent with friends and on vacations. Life is good.
His latest project at Allcom was supposed to be his biggest yet, lasting three years (which were wiped upon completion) but earning him enough money to finally retire.... but something has gone wrong. His 8-figure payment has been forfeited in favour of a manila envelope full of random odds and ends. The FBI wants to talk to him about his apparent involvement in the death of another engineer. A lot of people are trying to kill him. Now Jennings finds himself in the strange position of having to reverse-engineer his own future... before time runs out.
Paycheck (2003) is a reasonably faithful film adaptation of the Philip K. Dick short story of the same name, starring Ben Affleck, Uma Thurman, Paul Giamatti, Colm Feore, and Aaron Eckhart, and directed by John Woo.
---
Tropes:
---