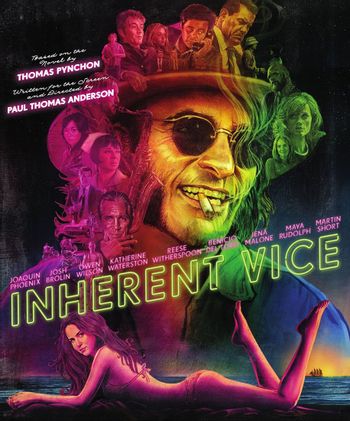 "If it's a quiet night out at the beach and your ex-old lady suddenly out of nowhere shows up with a story about her current billionaire- developer boyfriend, and his wife, and her boyfriend, and a plot to kidnap the billionaire and throw him in a loony bin... Maybe you should just look the other way."
— Sortilège
Inherent Vice is the 2014 film adaptation of the book of the same name by Thomas Pynchon. It was directed and written by Paul Thomas Anderson and stars Joaquin Phoenix, Josh Brolin, and an All-Star Cast. How all-star? Reese Witherspoon is in this movie, and she has three scenes.
Doc Sportello (Phoenix) lives in the fictional Southern California town of Gordita Beach in 1970, working as a private investigator while also getting high a lot. One day his ex-girlfriend, Shasta Fay Hepworth (Katherine Waterston), shows up and asks him to take on a case regarding her lover, real-estate developer Mickey Wolfmann. Shasta believes Mickey's wife and Mickey's wife's lover are consipiring to take his money and have him committed. Meanwhile, a gangster named Tariq Khalil hires Doc to find Glen Charlock, another ex-convict who owes him money—and happens to be one of Mickey Wolfmann's bodyguards. Doc gets hired on still a third case when Hope Harlingen asks him to find her husband, Coy. Coy's been reported dead, but Hope doesn't believe it.
It gets even more confusing from there.
---
This film contains the following tropes:
---