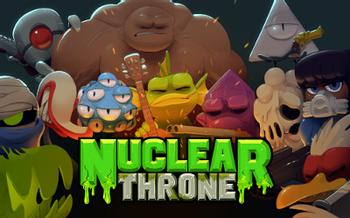 What has happened to this world is now forgotten. We do not know our past, who we are, and why we're here. We don't even remember our families or our homes, but we know one thing, we shall get to the Throne.
Nuclear Throne
is a Bullet Hell Shoot 'Em Up Roguelike by Vlambeer, creator of Super Crate Box, Luftrausers and Serious Sam: The Random Encounter. The game is currently available on Steam, PS4, PS Vita, and Nintendo Switch. The game is focused on high-adrenaline shootouts in randomly generated environments with a large number of weapons available at the player's disposal. Every character has different passive and active abilities, ranging from blowing up corpses to spending their own health to spawn allies. In addition, as you defeat enemies you gain radiation, which allows your character to mutate, gaining new perks as you travel across the wasteland. But no matter how strong you or your weapons are, you must still be careful, because death comes quickly, and death means you're going on a one-way trip back to the campfire.
At some point in the past, humanity messed up. They tried their best, but they went extinct, either dying in the wake of the apocalypse or mutating to a point where they could no longer be called humans or anything even remotely close to natural life. Though the human race was destroyed, Earth was not; it merely changed. Life became a struggle for survival, but it continued ever onward. A long time has passed since the apocalypse, and stories about the legendary Nuclear Throne have led a small group of mutants together to a secluded campfire. They have very little in common, but they all have the same goal; seeking the Nuclear Throne. This will by no means be easy, however, as the path to the Nuclear Throne is guarded by murderous bandits, ravenous monsters, and the mysterious Interdimensional Police Department (IDPD), a heavily armed militia determined to prevent anyone from reaching the Nuclear Throne for unknown reasons. Using their uniquely abnormal superpowers, these very same mutants will do whatever it takes to claim their prize and rise above, no matter the consequences.
Compare and contrast Enter the Gungeon, another Roguelike with Bullet Hell elements.
---
This game contains examples of:
open/close all folders
A-M
N-Z
---
YOU DID NOT REACH THE NUCLEAR THRONE