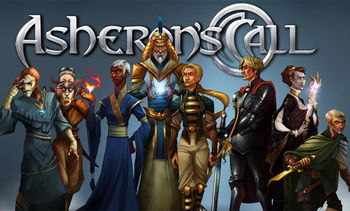 Asheron's Call
was a
Cult Classic
fantasy
MMORPG
by the small but respected development house
Turbine
, who is also responsible for
The Lord of the Rings Online
and
Dungeons & Dragons Online
.
It revolves on an island in an alternate universe called Auberean, after the world is destroyed. The titular Asheron, while researching dimensional portal magic, accidentally let loose the Olthoi, a race of insect monsters that very, very quickly took over his world. The entire game of Asheron's Call takes place on a small island called by the original people, Ireth Lassel, and is the site where Asheron's research took place. Before the start of the game, the portal experiment, which had run wild after opening the portal to the Olthoi homeworld, opened random portals to a world with 3 (later 4) human races, Ispar. The Isparians come through and are quickly enslaved or killed by the Olthoi, but a later rebellion allows them to overthrow the Olthoi and, in killing the Olthoi Hive Queen, free the land, which they rename Dereth, for colonization.
A noteworthy feature of Asheron's Call was its relative lack of Expansion Packs — in over a decade, only 2 have been released. Instead, as part of the standard monthly fee, Turbine adds Monthly content patches to the game — over 100 to date. In addition to adding new dungeons, quests, enemies, and so forth, each patch also advances the game's ongoing storyline, which plays out in a series of year-long Story Arcs (barring some occasional Schedule Slip). Recent years have seen major overhauls of the game mechanics, including new races, new methods of character advancement, and most recently (2012) a complete revamp of the combat system.
The player, when created, is considered to be a new arrival to Dereth from one of the random portals to Ispar. Character customization does not use the typical class system that most MMORPGs use, instead allowing a character to pick a number of skills using a points based system, and allows the player to buy more skills as he or she levels up. Experience does double duty: XP levels up characters, earning points to buy new skills, but is also is put into a pool where it is spent to improve stats and skills directly. Character builds, called Templates, are often discussed in and named by the community, for example, a "3 school melee" (a melee character with 3 magic skills), a "Og Mage" (named after a particularly successful PVPer), or a "Pure Archer" (Bow or Crossbow, Melee Defense, and no magic).
It spawned the first MMORPG sequel in history, Asheron's Call 2, which after years of mis-management by Microsoft, was also one of the first major name MMORPGs to end.
The original game was sometimes considered a Franchise Zombie — while monthly content updates continue, the active Asheron's Call player base has been shrinking for years. Many theories abound to why this is — most people agree that at least one of the 100+ monthly updates fall under They Changed It, Now It Sucks! — but the answer may be more marketing than anything else. Whereas EverQuest released its expansion packs as new titles (thus keeping it eternally inside game stores) Asheron's Call instead chose to release its expansion packs as free downloads. As such, the game propagates mainly by word-of-mouth, and not much by that since a lot of things are showing their age nowadays.
Regardless, Asheron's Call remained one of the most unique MMORPG experiences in the genre.
Nonetheless, on January 31st, 2017, both the original game and its sequel were shut down after 17 years of activity.
---
This game has examples of the following tropes:
---