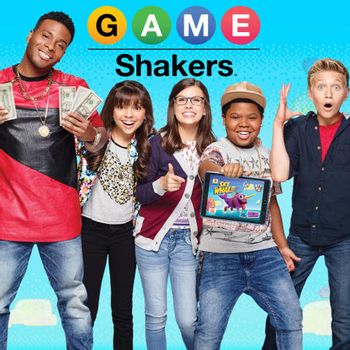 Game Shakers
is a
Nickelodeon
Kid Com
series from veteran showrunner
Dan Schneider
, the tenth series he has created for that network. The premise of the series revolves around a group of 7th grade students who, when trying to come up with a science project to turn in for class, instead accidentally create a hit video game that turns them into millionaires overnight. They then team up with a rapper and a professional gamer to churn out more hit video games. As a promotional tie-in with the series, Nickelodeon will also release games inspired by the creations on the show for viewers to play through their website as well as some as actual smartphone game apps.
Following Schneider's exit from Nickelodeon in early 2018, it was announced the series was canceled and would end after the third season. The final episode aired on June 8, 2019.
Clips and other informational snippets of the show can be seen on Nickelodeon's official web page for the show here
.
---
Tropes Demonstrated in Game Shakers: