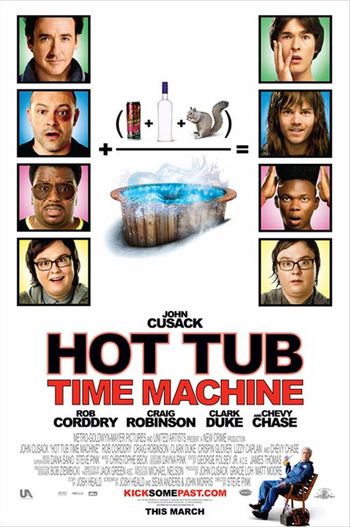 "It must be some kind of... hot tub time machine."
— Nick Webber-Agnew
A 2010 comedy film directed by Steve Pink (also known for doing Accepted) that features an ensemble cast including John Cusack, Rob Corddry, Craig Robinson and Clark Duke.
Friends Adam (Cusack), Lou (Corddry), and Nick (Robinson), along with Adam's nephew Jacob (Clark Duke), take a trip to a ski resort where Adam, Lou and Nick used to hang out to relive good times after Lou attempts suicide. However, while getting drunk in a hot tub, Lou spills some Chernobly (a type of Russian Red Bull) onto the hot tub controls, turning it into a time machine. The hot tub sends the four back to 1986, where Adam, Lou and Nick have regained their youth and replaced their 1986 selves. (Jacob, for some reason, is not a zygote. This goes unexplained, though he occasionally goes static like a television image with poor reception.)
A hot-tub repairman (Chevy Chase), who may or may not be Mr. Exposition, occasionally drops by to have Cryptic Conversations about how to return to 2010 and the consequences of changing the past. This, however, doesn't stop the three from trying, much to the dismay of Jacob, who feels that their actions may put his very existence in jeopardy via the Butterfly Effect.
The last film to be distributed by MGM before its bankruptcy and reorganization as a pure producer and co-funder as well as the last film credited by United Artists until Annapurna and MGM revived the brand in 2019. A sequel was released on February 20, 2015, and takes place 10 years in the future.
---
This film contains examples of:
---