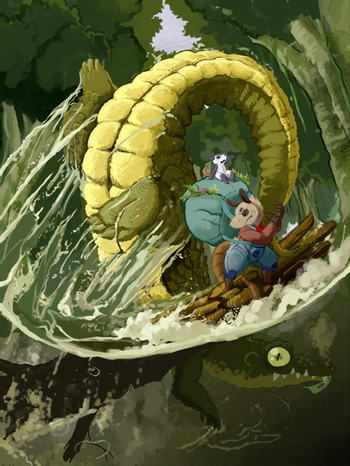 Poppy O'Possum is a webcomic created by I.S. Everett. It focuses on an opossum. A very strong opossum.
Taking place on Flora, a World of Funny Animals, the comic is about Poppy Odeletta Possum, a single mother who'd like nothing more than to find somewhere to comfortably settle down and raise her daughter, Lily - something she's been trying to do for quite a while, with little success, requiring her to move out very frequently. Her recent attempt is in a little town in the Fenneclands called Eggton. Here, surely, will be the place she can find the low-profile she's been seeking.
This fails immediately.
See, opossums are considered by most all to be the lowest of filth in Flora, and this has resulted in more than her fair share of rough knocks over the years (including having her daughter's eye injured by a BB gun); Eggton is no different. However, she manages to find favor with the mayor's assistant/daughter, the cat Petunia, after effortlessly knocking back the local mafia's bagman, a burly bird out to collect an impossible sum of protection money from Eggton. The comic focuses on Poppy's life in town from there, and all the troubles of the world out to get at her.
It can be read here.
Unfortunately the comic has stopped, with the author having no plans to continue it. The last update was on 11/02/18.
---
Tropes:
Would Hurt a Child: Poda is

more than happy to murder Lily and everyone one else for that key

.
Younger Than They Look: Ewe-Lala. She looks fully grown but

Because Wolves are usually huge in comparison to most of the other animals, she's actually just 17.
---