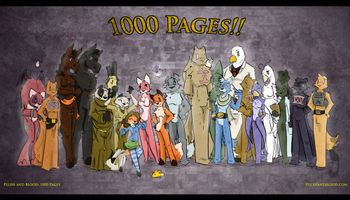 Plush and Blood is a Furry Webcomic written and drawn by Corey "Tired Orange Cat" Messer
that revolves around Stuffed Animals living in a Utopian society subtly ruled by a totalitarian dictator secretly stuffing the populous with behavioral control; and the subsequent fall of the empire. The first comic was posted on the 20 October 2006, with later pages appearing on a bi-weekly schedule. The first story, The Unstuffed, concluded 29 October 2010. The second story, Memory's Threads, began on 22 June 2012 and is on going with updates usually appearing twice a month or so. Uniquely starts off with title screens much like a movie.
Read it here
. Or you can start here
. Rated NSFW Mature (Web MA) for violence, blood and dismemberment.
---
Tropes featured in this webcomic:
---