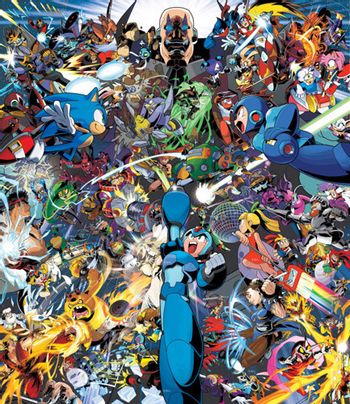 Xander Payne: Oh, Wily will have his reckoning. We all will. The time will come, and Worlds will Collide again...
In 2013, the worlds of the Sonic the Hedgehog and Mega Man comic series crossed over in the twelve part epic, Worlds Collide, a story which united two of gaming's most well-known blue heroes and brought about significant changes for the former series' future. Now, in 2015, the Blue Bomber and the Blue Blur's paths will be crossing over again, in a new crossover titled Worlds Unite. But this time, it's not just their worlds and time periods that are getting involved; joining the crossover are the cast of Mega Man X and Sticks of Sonic Boom, along with many, many more from across Sega and Capcom's storied franchises.
The story picks up on plot threads that began in Mega Man's Dawn of X storyline, as well as prequels in the prior issues of both Sonic books. In X's timeline, sometime after the events of Mega Man X7, Sigma discovers the existence of the mysterious Genesis Portals, which lead to different dimensions. Believing that these portals are the key to his further evolution, the living virus travels to Sonic's world, where he takes control of Dr. Eggman. After reuniting him with his former partner-in-crime from Worlds Collide, Dr. Wily, he puts them to work in building the means for his latest conquest, triggering a conflict that will span multiple dimensions.
In addition to characters from the Sonic and Mega Man franchises, Worlds Unite features characters from the following franchises:
Worlds Unite began in May of Spring 2015 and ended in August 2015. As with Worlds Collide, It ran through the issues of the respective series, with added benefit of having four comics rather then three to work with (Sonic Universe,Sonic Boom, Sonic the Hedgehog and Mega Man in that order) through the three months. The series also included two direct-market tie-in books expanding on battles shown in the crossover, appropriately titled Worlds Unite: Battle Books.
Now has a character page that needs love.
---
open/close all folders
Main Series
Battle Book series
---