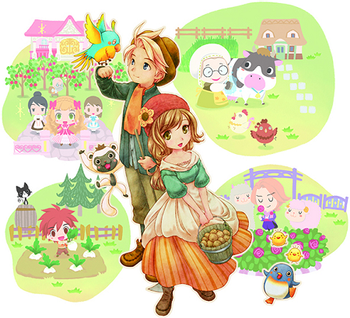 Story of Seasons is a 2014-2015 installment in the Bokujō Monogatari franchise for the Nintendo 3DS, developed by Marvelous and localized by XSEED Games. Due to former localization company Natsume owning the trademark for the Harvest Moon brand, Story of Seasons is the new international title outside of Japan from now on.
As with most Harvest Moon games, the story begins with your character moving to a farm to start a new life. Or as the instructions put it:
"One cold winter day, as you were going about your daily routine, you discovered an unassuming pamphlet in your mailbox:

NEW FARMERS WANTED!
Join us and help Oak Tree Town grow as you work the land!

It seemed so different — a world apart from the life you'd been living. But at the same time, it held the promise of being just what you needed to shake up your life and find the direction you'd been looking for.
That same day, you wrote up an application and submitted it to the address on the back of the pamphlet — a small hamlet called Oak Tree Town.
One week later, you received a letter of congratulations. It turned out you had been selected as Oak Tree Town's newest up-and-coming farmer!
As you packed your things that day and arranged travel to Oak Tree Town, you felt the buzz of excitement at the opportunity you'd been given. You don't know what awaits you out in the countryside, but you can't wait to find out!"
You have your work cut out for you when you arrive: your home is a disused shack in need of repairs, your field is full of rocks and overgrown trees, and the town's economy has all but dried up due to lack of trade. You'll have to farm, fish, forage, and develop your land if you want to revitalize local trade. But you'll also have to develop your relationships with the townsfolk (and the magical beings who have taken up residence near your farm) if you want to truly bring the town back to life. You may even discover the spark of romance with one of the villagers!
Along the way you can customize your avatar, renovate your home, and decorate parts of town. You'll raise crops, take care of animals, and explore the charming world of Oak Tree Town. Complete challenges for the visiting merchants, participate in festivals, win cooking and fashion contests — show the world that you've got what it takes to be the best farmer.
Followed in 2016-2017 by Story of Seasons: Trio of Towns.
This game provides examples of:
open/close all folders
# to C
D to H
I to N
P to S
T to Z