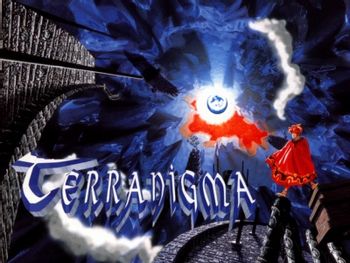 An Action RPG for the Super Nintendo Entertainment System published by Enix and developed by Quintet. It is considered to be part of a loose trilogy alongside SoulBlazer and Illusion of Gaia, although the three games are not officially tied to each other outside a few unused localized titles.note Illusion of Gaia was once planned to be released as Soul Blazer: Illusion of Gaia, while the unreleased US version of Terranigma was going to be titled Illusion of Gaia 2, a title that is still referenced in-game in Terranigma (despite Illusion of Gaia being titled Illusion of Time in PAL territories).
The game takes place in a post-apocalyptic Earth. After the forces of Light and Darkness fought a fierce war with no winners, all life was wiped out from the surface and the continents were sunk in the oceans. Life could only endure underground, where everything got covered by a crystal-like mist.
The story centers around Ark, a mischievous little scamp who, bored with life in the quiet underground village of Crysta (the only human village left) decides to ignore the orders of his village elder and Open That Which Should Not be Opened, which results in the entire population of his Doomed Hometown (except the Elder) turning into crystal. From there, Ark is then tasked with not only restoring his hometown, but also reviving the world above them.
This quest takes Ark to resurface all the continents and start the circle of the evolution of the species, from plants to animals and finally human beings. And from there, recreate all of human history, including events like the European discovery of the Americas or Edison inventing the light bulb, among many others.
A fantastically enjoyable game, but was generally crippled in sales due to being released in 1995, very close to the end of the Super NES's lifespan, as well as being released practically everywhere in the world except America due to the bankruptcy of Enix America and not being able find an American publisher due to the Nintendo 64 being right around the corner (it was already released in North America when Terranigma was released in Europe). The multiple themes of religion and death present in the title probably had a role too.
Known as Tenchisouzou (The Creation of Heaven and Earth), the original Japanese name of the game, it also got a short Manga adaptation by the same name.
---
The game contains examples of the following Tropes:
---