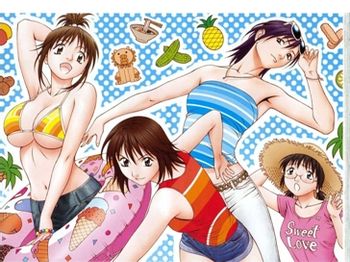 Change 123 (pronounced "change hi-fu-mi," as a Japanese language punnote Numbers often have alternative readings when used as counters for objects. For example, the counter for 1 person is hi-tori and for 2 people it is fu-tari. The reading for the number 3 in most cases (but not for people) is mi; the third day of the month, for example, is mikka. and after the central character(s)) is a Shounen (yes, really) fighting manga that manages to do something different with the whole "girl has different personalities" thing.
Teruharu Kousukegawa, a young otaku, is walking home when he spots a girl from his class, Motoko Gettou, being harassed by a greasy older guy. He goes to challenge him but wimps out, turns away, and then starts dialing the police. Meanwhile, the man has her backed into an alley and is getting way too close for comfort, and even further, announces his intent to make a real woman out of her... and then her character suddenly changes and she high-kicks the bugger right out of the alley into his Ferrari. Kosukegawa, running back to save her, is amazed at this show of skill, but she seems to have no memory of it, even though she instantly catches on to what happened and begs him not to tell anyone.
Furthermore, when he goes round to her house the next day, someone who looks like her answers the door. But the Shrinking Violet he talked to would never answer the door nearly completely naked.
She later explains that she developed multiple personalities due to each of her three fathers' Trainings from Hell. Yes, plural. When she is threatened, any one of the three alter-egos that split off due to the trauma of those experiences emerge and cause carnage. Because her fathers are an expert karateka, a skilled soldier/swordsman, and a world-famous Jujitsu master, they're really, really good at it. By extension, so are Hibiki, Fujiko, and Mikiri respectively.
Now Kosukegawa knows her secret and, hopeless nerd that he is, promises to protect her. Good luck with that.
Compare with W-Change!!, another action shonen manga that stars a split-personality heroine, and Mahoraba, a romantic comedy with a similarly multi-personae heroine, but without the action.
---
This manga contains examples of:
---