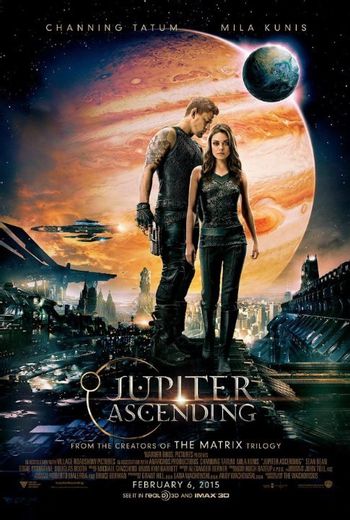 "I CREATE LIFE!!! ...and I destroy it."
— Balem Abrasax
Jupiter Ascending is a 2015 American space opera film written and directed by The Wachowskis.
Jupiter Jones (Mila Kunis) is a Russian immigrant girl raised in Chicago who makes her living cleaning houses with her family. Unbeknownst to her, she is also the genetic recurrence of the Queen of the Universe, whose three scions are vying for control of Earth. The son of the queen, Balem Abrasax (Eddie Redmayne), sends an agent to kill Jupiter, but her other son Titus Abrasax sends Caine Wise (Channing Tatum), part-wolf, part-human Super-Soldier, to protect her, and they team up with Stinger Apini (Sean Bean) to confront the Abrasax siblings and protect Jupiter's claim.
The film was released in the United States on February 6, 2015. Watch the teaser trailer here
and the main trailer here
.
Has no relation to Mercury Rising.
---
Jupiter Ascending provides examples of:
open/close all folders
#-I
J-Z
---