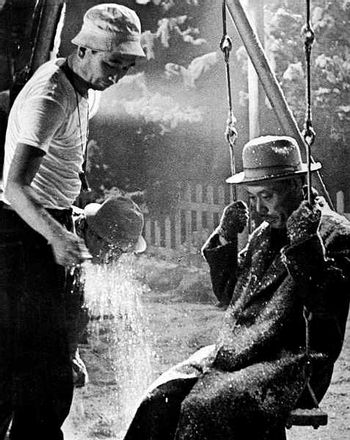 "I can't afford to hate people. I don't have the time for that."
Ikiru (To Live) is a 1952 film by Akira Kurosawa about the death of a petty bureaucrat. Kanji Watanabe (Kurosawa regular Takashi Shimura) has served in a monotonous bureaucratic position in City Hall for 30 years, providing for a son who only seems to care about his money. He is seemingly content with this barely living routine, until a trip to the doctor reveals that he is dying of stomach cancer. Suddenly awakened to the meaninglessness of his life so far, Watanabe searches in vain for a way to give his life purpose, trying dissipation, hedonism and a (platonic) relationship with a much younger woman before finally realizing that the key just happens to have been sitting on his own desk all along: a plan to build a playground in a poor neighborhood, on land coveted by developers for a new shopping arcade. Something that only someone with his skills, developed over a lifetime spent in the bureaucracy, is going to be able to get accomplished.
Considered Kurosawa's finest film to be set in contemporary Japan (most of his famous films are Jidaigeki), it was the film he made right before Seven Samurai, and if not for its proximity, Ikiru would probably be held in even higher regard. As it stands, the film is considered an absolute classic from a master filmmaker, with Takashi Shimura giving the performance of his career.
Almost always referred to by its Japanese title; while this has more or less always been true, it also helps distinguish it from the much later film adaptation of the Chinese novel To Live.
---
This Film contains examples of: