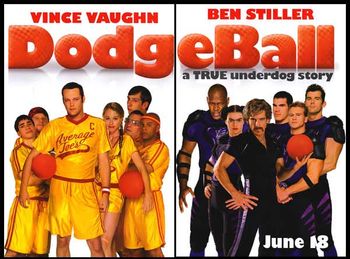 "If you can dodge a wrench, you can dodge a ball."
Directed by Rawson Marshall Thurber, the 2004 comedy DodgeBall: A True Underdog Story revolves around amiable underachiever Peter LaFleur (Vince Vaughn), who owns a rundown gym called "Average Joe's" with a less-than-average clientèle, including a self-styled pirate (Alan Tudyk), an ultra-obscure sports aficionado (Stephen Root), and a pining high-school Nerd (Justin Long).
Despite the gym posing little threat to Globo Gym, a fitness goliath run by White Goodman (Ben Stiller), Peter's humble recreation centre becomes a subject of much controversy when Goodman learns of his rival's less-than-meticulous bookkeeping. Determined to crush his rival and build a new parking area for Globo Gym, Goodman hires attorney Kate Veach (Christine Taylor) to initiate a hostile takeover of the gym.
However, not all hope is lost: if Peter and his ragtag group of regulars can raise the $50,000 needed to cover Peter's deficit payments, then Average Joe's will be saved from both the corporate and literal bulldozers. With little talent and a great deal of misplaced enthusiasm, their last hope rests in a national Dodgeball tournament with a cash prize of exactly $50,000. Unfortunately, Goodman learns of their plans and enters his own elite squadron, the Globo Gym Purple Cobras, into the tournament to take home the gold themselves and thwart their heart-warming underdog victory.
---
This film provides examples of:
---