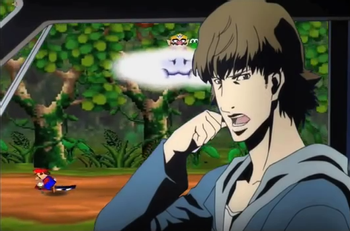 Oh God, I can already taste the guilt. Coupled with the alcohol to deal with said guilt. Coupled with the hooker that accompanies the alcohol. And then the guilt of killing the hooker, of course. Coupled with the alcohol to deal with the guilt... Followed by another hooker...
—Dean, Vampire Bats, after realizing he's going to have to kill a vampire kid
In 2005, the TV Show Supernatural first aired on television, detailing the story of two brothers, Dean and Sam Winchester, traveling across the country taking on cases and hunting creatures of the supernatural persuasion.
In 2011, the Japanese anime studio Madhouse Productions took the show and turned it into an anime, retelling the first two seasons of the show, which dealt with Dean and Sam trying to find their dad and the aftermath.
And then, also in 2011, the group TheWINChestersInc decided to do their own take on the anime that took its own take on Supernatural. And thus, Supernatural The Animation Abridged was born, albeit more on the more bizarre side of an abridged series.
It can be found here
. Their Tumblr can be found here
, and their Facebook page can be found here
. Latest Episode is Episode 6... from 2014.
Tropes:
Parental Favoritism: Dean notices that Mary doesn't bother telling him that she loves him and only tells him to look after Sam.

Dean: Oh, I see how it is...

Pedo Hunt: A bullied kid asks Dean to train him, to which he agrees, but his father believes he's a pedophile and so tries to kill him.
Plot Hole: In-Universe. Dean spontaneously appearing in the apartment after Sam locked him out in episode 4. This is lampshaded by the man himself:

Dean:

Well, apparently,

I'm

back. Nobody let me in,

I don't know how I got here

...

Politically Incorrect Hero: Both Sam and Dean are both sexist and homophobic. Played for Laughs.

Sam: What the fuck is wrong with you!
Molly: I don't know any better.
Dean: [nods furiously] It's true, she is a woman.

Psychological Projection: "I'M NOT FAT! EVERYONE ELSE IS FAT!"
Race Lift:

Gordon, a black man, is resurrected as a white man (with an Australian accent!)

. The anime character was intended to be a totally different character, but he was so obviously based on

Gordon

that the abridged series just rolled with it.
Random Events Plot: Episode 5, although it manages to get back on track near the end. In order: note
Refuge in Audacity: How was the Ghost Impala dealt with in episode three? By the asshole cop killing

his son

... the last gay person in town.
Running Gag: In scenes from inside the car, instead of the road passing by outside the windows it's nonsensical Stock Footage. The boys have driven through things ranging from The Angry Video Game Nerd to Spongebob Squarepants to a YouTube copyright claim.

In episode 2, mentions of "You dirty fat whore".
In episode 6, bringing up the fact that

Dean drank pee

.
Sam and Dean keep going to Google headquarters to use Google.

Sanity Slippage: Sam immediately starts going nuts in episode 4 after Dean disappears from Madison's boring apartment.

And then it proceeds to get worse:

Sam: [grabs Madison]

N-n-

nooooo

!

[pulls out a gun, has a crazed look on his face] Help me help you [extreme closeup] FUCK ME

!

Say My Name:

Dean does this repeatedly with "SAM!" and "GORDON!"
Also, DEEEEAAAAANN!!!!

Screamer Prank: In the opening of the first episode.
Screwed by the Lawyers: Parodied. One of the last backgrounds in the Impala is a copyright takedown notice.
Self-Serving Memory:

At the end of episode 6, Dean leaves out a key moment in his recap:
Also in the same episode, Dean thinks that he killed

Gordon

in the previous episode.

Sam: God

, I wish you'd get off your ass and do some work!

Dean: [watching TV]

I took care of

Gordon

!

Sam: NO! NO, YOU DIDN'T!

Shout-Out:

The "HUG ME BROTHER!!!" line mentioned above is said pretty much the same way as on Drake & Josh.
Episode 3 has a direct one towards Code Geass, which may also be a subtle one towards Code MENT, whose style the series' abridging takes after.
Episode four's opening is a huge shout-out to Death Note. Mainly because Supernatural The Animation was produced by the same studio.

Dean: Sorry, I thought you were someone else.

Same episode, what does Sam say before having sex with Madison?
A stealth one: when Dean and Sam drive away, Sam exclaims "Dean! We have to go back!" (because he wants to have more sex with Madison) as "Back In Time" plays on the radio in the Impala.
While Dean is changing channels in Episode 6, you can briefly hear the intro to Game Grumps.

Skewed Priorities:

While Sam is being attacked by Werewolf!Madison in episode 4, Dean is dancing and singing a "Hungry Like The Wolf"-style Filk Song. Dean even points out in his lyrics that he should be helping... but "[he doesn't] give a fuck".

In the same episode, Sam cared more about his rather concerning plan to make Madison fall in love with him than he did about letting Dean back into the apartment or about Dean killing another hooker and his needing help getting rid of the body.

After assuming the music on the radio is causing Sam's headache in episode 6, Dean... tells him he's not turning it down.

Same episode: a flashback to the night Mary died revealed John's method of handling it:

John: I'll stare down the flames and buy us some time!

Soundtrack Dissonance:

The climactic scene of

Dean and Shapeshifter!Sam fighting in the Impala on the highway and Real!Sam running up to shoot Shapeshifter!Sam through the windshield

in episode 1 is set to, of all things, The Youngblood's "Come Together".

Stating the Simple Solution: After the vampire's elaborate plan to impale Dean on pitchforks fails:

Vampire: [after lamenting how his plan went wrong]

To be honest, the thought of killing you seems kind of empty.

Dean:

Aw, thanks man, I really appre—

Vampire: [Evil Laughs]

PSYCH, I'M THIRSTY!!

Talking in Your Sleep: Sam says his entire sex dream out loud in episode 2.

Sam: ...did you hear anything?
Dean: I heard enough forever.

Take That!:

In-Universe, Dean eating Pizza Time pizza in episode 5 made him give up on food entirely... until he got hungry.
A subtle one from the same episode: Dean is looking around town and winds up spotting "a bunch of kids killing one kids for entertainment". And by "a bunch", Dean means four.
Not only is the similarity pointed out in the episode itself (where upon it's clarified that the Ghost Impala kills

gay people

instead of black people), but the description for episode 3 is:

The Animation's failed attempt at "

Route 666

".

At the beginning of almost every episode, there is a disclaimer that ends with whoever's reading to asking the viewer to support the "official" release, meaning the anime. Episode 6, on the other hand?

Dean:

The following is a non-profit fanbased parody.

Supernatural: The Animation

is owned by Eric Kripke, Warner Bros., and Madhouse Productions.

Please support the live-action show.

Behold: the description to episode 2:

If the original anime can choose when the snow abruptly stops, so can we.

a meme

is to overuse it. And the best way to do that is with a Tumblr.
As Dean and Sam state in episode 6, the best way to kill

Tulpa:

Ghost Nappa

in episode 6. However, Dean and Sam can't kill it in the normal way (getting people to stop believing in it): not only does their attempt at using Tumblr backfire, but as Castiel reveals, they were added into the lore by their own fanbase. Ultimately, it was killed by

Mary destroying his scouter

.
The Power of Hate:

How Dean's necklace shoots lasers: if Dean is particularly pissed about something, it will go off. While Dean screams his own name.

Dean: [thinking]

Damn you, tree. I fell out of you and broke Sam's arm.

[necklace activates] DEEEEAAAANNNN!

[...]

That Mom Like Person:

Is my tree on fire?!

Dean:

We would

love

to come in!

How Sam describes killing

Molly

in episode 2:

Sam: [cheerful]

I killed

a ghost

with nothing but hateful words!

This Is Gonna Suck: Dean realizing he'll eventually have to kill that vampire kid in episode 6... and we already quoted that. But we didn't quote THIS:

Vampire Kid:

I'm sorry... Probably has to do with me being a vampire...

Dean:

Is that right? Well,

fuuuu-uuuuuck

...

Troubling Unchildlike Behavior:
Unspoken Plan Guarantee: Sam shows up near the end of episode 5 to shoot

Gordon

... despite that no point did Dean say that Sam should do something.

Sam: I think I misunderstood the plan...

Verbal Backspace: Missouri's first words to Sam and Dean in episode 6?

Missouri:

I knew you were coming, so I

peed in this p

-

brewed some tea

...

Verbal Tic:

The husband in episode two who starts his sentences with "Pleeeeeaaassseee". This drives his wife to

attempt to

kill him.
When ever Dean mentions / thinks about Gordon, he has to scream his name.

Vocal Dissonance: What happens when you cast PurpleEyesWTF as a Cool-Ass Baby.
Vocal Evolution: Dean sounds less and less deep voiced as the series progresses and actually sounds more like Live Action!Dean. Sam, on the other hand, is more or less the same (albeit a bit more higher pitched).
The Voice:

Castiel

in episodes 5 and 6.
Yandere: Sam turns into one for Madison in episode four.

Sam: I am your boyfriend now. Dream about my dick.
---