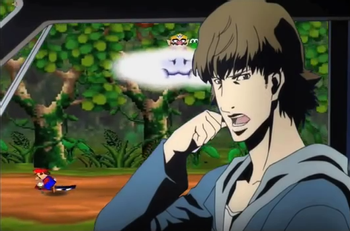 Oh God, I can already taste the guilt. Coupled with the alcohol to deal with said guilt. Coupled with the hooker that accompanies the alcohol. And then the guilt of killing the hooker, of course. Coupled with the alcohol to deal with the guilt... Followed by another hooker...
—Dean, Vampire Bats, after realizing he's going to have to kill a vampire kid
In 2005, the TV Show Supernatural first aired on television, detailing the story of two brothers, Dean and Sam Winchester, traveling across the country taking on cases and hunting creatures of the supernatural persuasion.
In 2011, the Japanese anime studio Madhouse Productions took the show and turned it into an anime, retelling the first two seasons of the show, which dealt with Dean and Sam trying to find their dad and the aftermath.
And then, also in 2011, the group TheWINChestersInc decided to do their own take on the anime that took its own take on Supernatural. And thus, Supernatural The Animation Abridged was born, albeit more on the more bizarre side of an abridged series.
It can be found here
. Their Tumblr can be found here
, and their Facebook page can be found here
. Latest Episode is Episode 6... from 2014.
Tropes:
---